Coming soon: my annual basketball pools!
Every year since I was a freshman in high school in 1996, I've run "moneyless" pools — free to enter, no cash prize — for the NCAA men's and (except in '96 and 2000) women's basketball tournaments. Also, since 2005, I've run a similarly free NIT pool. I'll be doing all three again this year, starting this Sunday and Monday, March 11 and 12.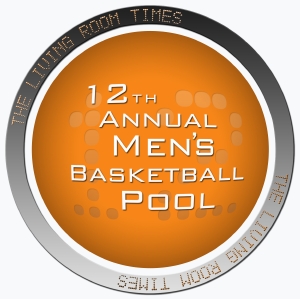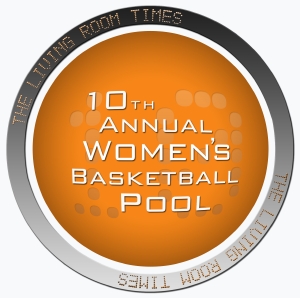 Logo design by Tom Greca.

Last year, 218 contestants entered my men's pool, and the winner, UCLA alumnus and Notre Dame law student Mike Tran, was featured on Sports Illustrated's website for his excellent bracket. So, although Tran got no fortune for his success, he did get fame, not to mention a championship t-shirt, effusive praise from a Trojan (a rare thing for any Bruin), and the respect and admiration of his peers — and that's what my NCAA pools are really all about. There's no monetary risk in entering, and the reward is endless bragging rights. For example, Brian Kiolbasa, a classmate of Mike's and mine, still brags that he got 6 more points two years ago than Mike got last year, thus holding onto the all-time points record for a men's pool.
The men's and women's NCAA pools are called "Living Room Times pools," named after the unofficial school newspaper that I published during high school. The Times published its last issue when I graduated, but it lives on through the annual pools. You can view the history of the pools, including all pool standings since 1996, here.
Anyway, check back this Sunday and Monday and get in the pools!
Also, if you're a Facebook and/or MySpace member, you can join the Facebook group and/or the MySpace group for my pools!