Archive for the 'Hurricane Emily' Category
Wednesday, July 20th, 2005
Hurricane Emily, a Category 3 storm with 125 mph winds, is making landfall right now near Gpe. Victoria, Mexico: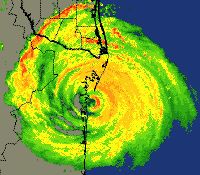 Here's the latest advisory. WXNation has lots of links.
UPDATE: Here's a 4-hour animated GIF of Emily making landfall (1,014 KB).
Dr. Jeff Masters has a good post about Emily, featuring an excellent view of her concentric eyewalls at landfall, as well as the following summary:
Mexico was unfortunate to have the storm slow down and make landfall at peak intensity. The slow motion of the storm means that the coast will be exposed to a long period of high water and battering waves. However, this portion of the coast is sparsely populated. Browsville is just north of the area of hurricane force winds, but the coastal areas will take a severe pounding from Emily's storm surge. The rains of Emily, expected to bring 2 – 4 inches to South Texas, will be most welcome, as this part of Texas is under extreme drought.