Maybe dashboard GPS devices should come with a warning label that reads, "You still have to look at the road, dumbass":
The driver of the bus carrying the Garfield High School girls softball
team that hit a brick and concrete footbridge was using a GPS
navigation system that routed the tall bus under the 9-foot bridge, the
charter company's president said Thursday.

Steve Abegg, president of Journey Lines in Lynnwood, said the
off-the-shelf navigation unit had settings for car, motorcycle, bus or
truck.

Although the unit was set for a bus, it chose a route through [Seattle's] Washington Park Arboretum that did not provide enough clearance for the
nearly 12-foot-high vehicle, Abegg said. The driver told police he did
not see the flashing lights or yellow sign posting the bridge height.

"We haven't really had serious problems with anything, but here it's
presented a problem that we didn't consider," Abegg said of the GPS
unit. "We just thought it would be a safe route because, why else would
they have a selection for a bus?"
"It" presented a problem? The GPS unit is the problem? Really?!
Well anyway, no one was seriously hurt, thank God. And, having said that: HAHAHAHAHAHAHA.
Said Garmin spokesman Ted Gartner: "The bigger comment here is that drivers always need to obey all the rules of the road at all times. Stoplights aren't in our databases, either, but you're still expected to stop for stoplights." LOL!
The best part about this is, it wasn't even close. Remember the truck that six inches too tall for the Lincoln Tunnel? Well, at least that was only six inches. This bus was three feet too tall to fit under the bridge! Here's the photo evidence: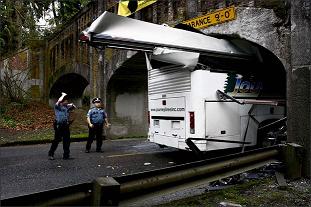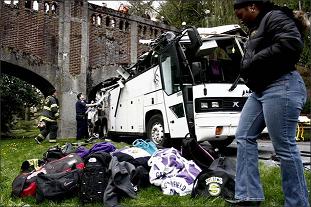 A local RV seller is quoted in the P-I story as saying, "If this guy was a professional driver, he should have known his bus
was 12 feet high and couldn't fit into a 9-foot box." A professional driver?? If this guy was a trained monkey, he should have known that! It doesn't exactly take a genius to realize, as you're approaching a bridge, that the vehicle you're driving is way, way too tall to clear the bridge.
The Seattle Times has more, including word that the bridge wasn't structurally damaged. The Times also mentions that, on top of everything else, the softball team lost the game it was returning from, 10-0. Oh, and they give the driver's name, Brad Adams. I actually kind of feel bad for the guy. He must be so freakin' embarrassed. Not to mention prayerfully hoping that none of those softball players develop injuries that would make for a good claim of damages in a negligence lawsuit…
(Hat tip: David K.)