The "West F***in' Virginia" guy has a Facebook page. His name is Eddie Regan, he's a junior at WVU, and he says "the shirt is sold around the stadium by the hundreds." But he's the one who got on national TV wearing it. Warning: all of the above links lead to uncensored profanity.
Speaking of West F***in' Virginia, things aren't looking too good for the lovely Lindsey in the Athlon cheerleader contest. The current leader, bafflingly, is Caris from North Texas with 141,512 votes, followed by Shawn from Tennessee with 113,933 votes and then Lindsey with 85,669.
I'm torn about whether to vote again for Lindsey or cast a strategic vote for Shawn in hopes of defeating Caris, who while perfectly okay-looking and probably a very nice person, wasn't even close to being the most attractive contestant in her hottie-filled semifinal group — nevermind the finals. Good grief.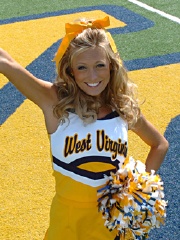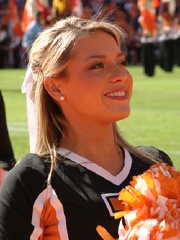 Lindsey or Shawn? Decisions, decisions…
The polls close at 11:59 PM on December 14.