[NOTE: You can read all three "BracketBusters Experience" posts, from start to finish, here.]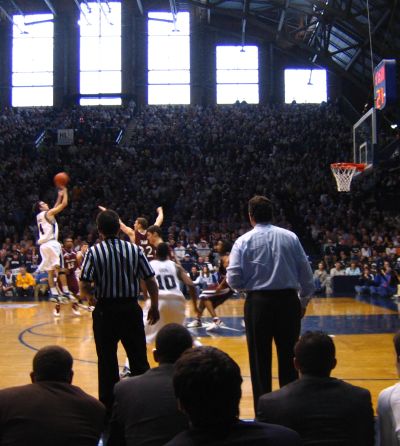 After being rescued by Butler coeds from a snowy vehicular doom, and after soaking in the majesty of Hinkle Fieldhouse and the glory of front-row seats, it was time to play some basketball.
Actually, before I start talking about the game itself, here's a nifty pregame video — which I should have included in "Part II," but I didn't think of it — to set the scene. First you hear the Salukis cheering section chanting "S-I-U" as their team takes the floor, but they're quickly drowned out by Butler fans' boos… which are in turn quickly replaced by wild cheers as the Bulldogs enter the arena. And then comes a clip of the Butler player introductions.
Pretty cool.
Really, though, the video doesn't do it justice. As Bob Kravitz of the Indianapolis Star wrote:
Being at Hinkle on Saturday was not a job, really; it was an honor. The place was hot, old Boston Garden hot, and it was hopping, filled to the top with Butler's first sellout since 2003. There was an undeniable Cameron Indoor Stadium feel to the place, except for all the visiting team's fans filling the corner of the old barn.
The absolutely electric atmosphere in that place is the biggest reason why I ended up "switching sides" and rooting for Butler (having arrived with my loyalties split maybe 55% to 45% for SIU). Early in the game, I was torn about who to root for, but I realized that if it came down to a final possession and Butler was going for the win, there was no way I wouldn't root for the result that would cause the "Dawg Pound" at Hinkle Fieldhouse to go completely crazy… because that would just be so awesome. So, about midway through the first half (with the Bulldogs trailing by 6 points or so), I decided to jump on the Butler bandwagon right then and there.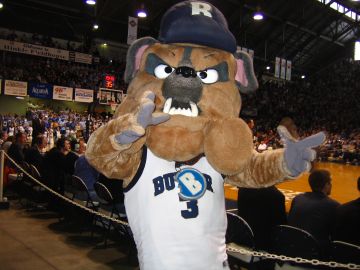 Anyway… coming in, my fear was that the game would be so defense-oriented as to be painful to watch. Kyle Whelliston had predicted "the best 35-33 game ever," and Andy Glockner had mused that the matchup might induce comas in casual viewers. But it quickly became apparent that those fears were exaggerated. These teams were, as advertised, very good at playing defense — it was, as SIU star Jamaal Tatum told SI's Luke Winn, "the blue-collar matchup in college basketball" — but they also knew how to score points, even against the other's suffocating "D."
Besides, given the setting, the game almost couldn't help being exciting. The slightest momentum shift in Butler's favor sent the crowd into a frenzy, and the slightest shift in the other direction produced a mighty roar from the sizeable SIU cheering section. Here a video clip where you can get a sense of the seesawing momentum late in the first half:
Unfortunately, in the second half, the referees became an uncomfortably large part of the story, calling an extremely close game with tit-for-tat ticky-tack fouls on both ends of the floor. It was even-handed, IMHO, but it was disruptive to the flow of the game, and honestly, resulted in more points than probably should have been scored, since good, disruptive defense would often result in a foul being called.
One of the more memorable officiating moments was an absolutely horrible foul call on a clean block by Butler's Mike Campbell with 7:01 to go, disrupting an 8-1 Butler run that had cut SIU's lead to 49-47. The officials obviously realized their mistake, as they promptly did a classic "make-up call" on the next Butler possession, but the damage was done: the Bulldogs lost their momentum, and SIU started slowly rebuilding its lead.
But it was the general whistle-happiness, more than any individual call, that negatively impacted the game. And I'm not just saying that because I was rooting for Butler and the home crowd was booing every call that went against the Bulldogs. Neutral observers noticed, too. Sports reporters rarely mention the officiating in their articles unless there's some specific controversial call late in the game, but in this case, several columnists mentioned the referees' overall frustrating pattern in their write-ups. For example, the Star's Kravitz wrote, "The second half got bogged down by a trio of officials who called a foul on every possession, whistling both teams a total of 34 times in the second half." Kravitz added that "the game didn't ultimately suffer that much from it," but Kyle Whelliston didn't seem so sure of that:
The real difference in a contest that lasted nearly 2½ hours was what happened when time stopped altogether. With all the tooth-and-nail physical play around the paint, whistles were abundant, and SIU outpaced its hosts 27-19 in made free throws. One of the key rules of the BracketBusters format is that the visiting conference brings its officials (to counter home-court advantage), but Butler head coach Todd Lickliter was diplomatic about the 26 fouls the Missouri Valley officiating crew called against his team, a regulation game season-high.
More on what Lickliter said in a second, but first, here's a video of a pretty typical second-half possession: an entertaining standoff between the offense and defense, followed by a whistle.
I'm not criticizing that particular call, but in general, I wish the refs had let 'em play more. And so, I'm sure, did Butler star A.J. Graves, who — as if feeling ill and vomiting in the first half wasn't bad enough — picked up his fourth and fifth fouls late in the game on a pair of ticky-tack calls, and was forced to sit out the final minutes as Butler almost came back to win. I wasn't videotaping when he fouled out, but here's the crowd and bench reaction to his fourth foul:
Now, I'd love to blame this all on the refs, but I actually need to take a moment here to criticize Butler's coach. I'm certainly not suggesting that he's a bad coach generally, but his handling of the second-half officiating really left something to be desired, as the Bulldogs simply did not adequately adjust to the way the game was being called. This was particularly evident on Graves's last foul.
To set the scene: With 2:44 remaining, Graves hit two free throws (he's virtually automatic from the line, having missed five FTs all year) to cut Southern Illinois' lead to 62-56. Now the Bulldogs needed a defensive stop or, ideally, a turnover. They decided to pressure the ball, which makes a lot of sense, but was obviously risky because of those whistle-happy refs. What made it particularly risky was that Graves, the star player whom Butler was obviously going to want on the floor in the game's final moments, was the one pressuring the ball, even though he already had four fouls. As I watched him step up his agressive defense on SIU's Jamaal Tatum, 45 feet from the basket, I felt sort of like how you feel in that split-second when you realize a beverage is about to spill, but you can't do anything about it. I thought to myself, "Oh no, he's going to get called for a foul!" Not that he necessarily deserved it, but that was just how the refs were calling the game. And, sure enough, a half-second later, the ref blew the whistle. Graves was done.
My first question for Coach Lickliter, if I had a seat at the postgame press conference, would have been: Why on earth did you have Graves pressuring the ball on that possession? You knew the refs were calling a very close game, so you had to know he was taking a serious risk of drawing his fifth foul, even just by playing run-of-the-mill aggressive pressure defense and trying to force a turnover. Obviously you needed to put pressure on SIU in that situation, but surely someone else on the team could have played that role, so that Graves could stay in the game and be ready when you needed him to score a potential game-winning basket down the stretch!
But alas, Graves drew the assignment, Tatum drew the foul, and it was all over for Butler's star. He spent the rest of the game a few feet away from Becky and me, watching from the bench.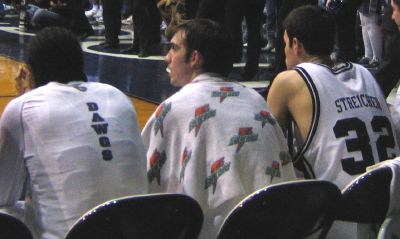 Of course, the Bulldogs didn't just roll over when Graves fouled out. In fact, to their great credit, they managed to mount a real attempt at a last-minute comeback, even though Graves's absence presumably made it easier for SIU's defenders to focus on the Bulldogs' other shooters. (They — possibly in combination with the flu — had been very effective at bottling up Graves all night, holding him to 1-for-8 shooting.)
The crucial moment came between in a 12-second stretch with less than two minutes left. At 1:41, with the Salukis up 63-57, SIU's Bryan Mullins had a three-pointer at the shot-clock buzzer rim out; if it had gone in, that probably effectively ends the game right there. Butler's Mike Green grabbed the rebound, the Bulldogs quickly moved it up the floor, and Brandon Crone hit a three-pointer with 1:29 remaining, cutting Southern Illinois's lead to 63-60. The crowd went wild. We had ourselves a ballgame!
Southern Illinois hit a pair of foul shots to get the lead up to 65-60, but Butler answered with two FTs of its own to cut it back to 65-62 — and then the Bulldogs almost forced a turnover on the inbounds pass, which would have given them the ball with 20 seconds left in a one-possession game. But the ref ruled that Green fouled Tatum an instant before Tatum lost the ball out-of-bounds. You can watch that dramatic sequence here:
Tatum sank both free throws to stretch the lead back to 67-62. A few more tit-for-tat free throws later, the game was over; the Bulldogs never did get the ball in their hands with a deficit three points or less in the closing seconds. The final score was 68-64.
Here's a photo of the handshake line after the game; the player hunched over, supported by a teammate, is Green, who moments earlier had collapsed to the floor after losing the ball in the final seconds and being unable to get off a shot.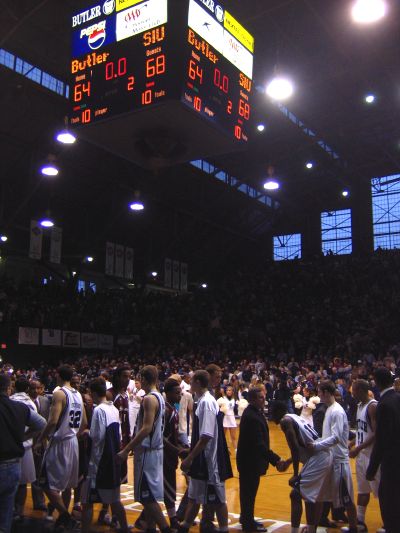 All in all, it was a great game. The Sporting News called it "mid-major basketball at its finest," but I'm not sure the qualifier is necessary. Kravitz said it well:
This game, the first in Hinkle's long history in which Butler and its opponent were both nationally ranked, was not as good as advertised.

It was better.

Southern Illinois won, and so did college basketball. Throughout the country, ESPN2 viewers saw two teams that have a chance of making a mess of millions of brackets come NCAA Tournament time.

When Lickliter came to the postgame news conference, he was hard-pressed to find the right words. Then the disappointment temporarily gave way to sheer appreciation. He had been part of something pretty special.

"We saw two top-20 teams compete for 40 minutes, and we saw guys make plays that were terrific," he said. "I just can't imagine there's been a harder fought, better game throughout the course of this season. Two really nice teams. Two teams that share the ball. Two teams that guard.

"It's difficult. I guess it tests you. But I don't think we have anything to be ashamed about. They were a little better than us. I sure would like to see them again."

He paused.

"Maybe in Atlanta (at the Final Four)," Lickliter said, smiling. "That would be nice."
Wouldn't it, though?
Anyway, Becky and I had a great time. (Pay no attention to the Missouri Valley Conference shirt in the photo below; I was rooting for Butler by the time this picture was taken. Hehe.)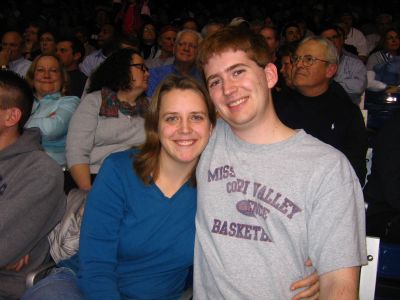 Unlike the Missouri Valley tournament last March, which was fun in spite of the ugly basketball being played (those teams were just absolutely exhausted from all the regular-season battles, and they played like it), this was an afternoon of hoops where we could genuinely enjoy the quality of play, on both sides of the ball.
There's one definite similarity to the MVC tourney, though: just like I felt a sense of "ownership" when Bradley and Wichita State made Sweet 16 runs last year after we saw them play in Arch Madness, you can bet I'll be rooting especially hard for the Salukis and Bulldogs next month. Well, unless they come up against USC, Notre Dame or Gonzaga, of course. :)
Anyway… you can view my full gallery of photos here. Here are a few particularly notable ones that I didn't manage to work into this or either of the posts. In the first one, note ESPN's Rick Majerus in the background. (That's Coach Lickliter adjusting his tie in the foreground.)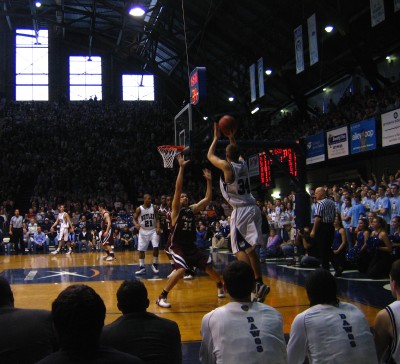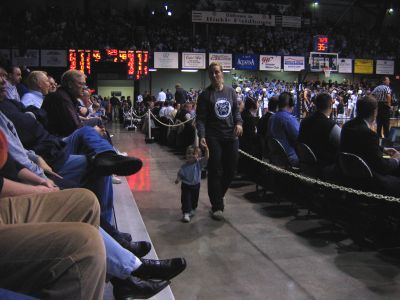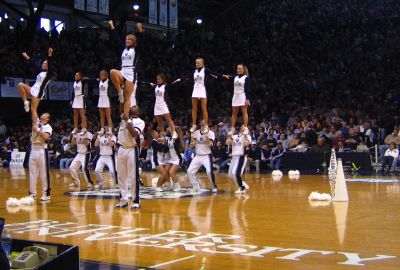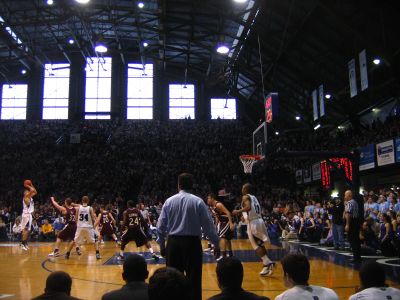 Again, the full gallery is here. And here again are the links to Part I and Part II of my "BracketBusters Experience" write-up.
UPDATE: You can read all three "BracketBusters Experience" posts, all at once, here.