Get out your brooms, Boston fans. The Red Sox are heading back to Yankee Stadium tomorrow, looking for a sweep!
Watching the Sox absolutely crush the Yankees, 11-0 — Boston's second straight Bronx Blowout over the Bronx Bombers — was nothing short of incredible, and moreover, really, really fun.
Sure, the flagpole made it tough to see the pitcher's mound and home plate at the same time, and our seats were so far back in the bleachers that Scott's friend said we were "on the moon," and I got a bad sunburn because I forgot to wear sunscreen. But none of that matters, because we witnessed a downright remarkable win — not to mention the transformation of Yankee Stadium into Fenway Park South! By the ninth inning, Red Sox fans owned the place!!!
Anyway, here are some of my pictures from the game:

A fine view of Yankee Stadium and the Yankee flag — and the flagpole blocking our view: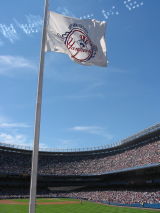 I took three pictures (on three different pitches) of Roger Clemens pitching to Nomar Garciaparra. As the shutter clicked on the third picture, Garciaparra hit a home run!!!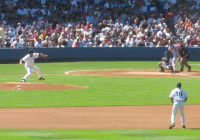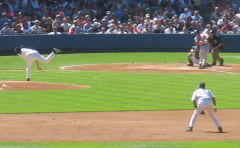 Scott reacts to Nomar's homer, which put Boston ahead 3-0 in the fourth inning: