WARNING: This is a long post, but darn it, I want it all above the jump. If you'd like to skip over the family stuff, and go straight to where I make fun of the Associated Press, click here.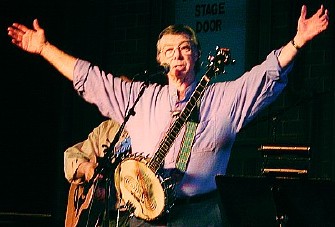 Readers who didn't catch my Tuesday post about Tommy Makem may be wondering why I'm making such a fuss over his death, especially with so much else happening in the news. Indeed, a friend texted me this evening, "I'm embarrassed to ask, but I don't know who he is!"
Well, the AP obituary gives the basic gist of the answer to that question, as does the NPR audio story. But the bottom line is this: there's a good reason they call him the "Godfather of Irish Music." Tommy Makem was a great Irish folk singer, but more than that, he was an extraordinary musician and storyteller who played a huge part in popularizing Irish folk music here in America — real Irish folk music, not the sort of maudlin stuff that Bing Crosby sang. I'm talking songs of rebellion, booze and love: songs like "Roddy McCorley," "The Irish Rover," and "The Leaving of Liverpool," to name a tiny handful of the many, many awesome songs that he and the Clancy Brothers performed over the years.
Makem, along with his former bandmates the Clancys, lent pop-culture credibility to Ireland's traditional songs, injecting them with a unique style and weaving them into the folk-music revolution of the 1960s. (To give you an idea, the boys were close with Bob Dylan, among others. Indeed, the very last joint performance by Makem and the Clancys occurred in 1992, when they sang together at the televised 30th Anniversary Concert for Dylan.) Makem also enhanced those traditions with his own wonderful compositions, such as the tender "Red Is the Rose" and the poignant, militant "Four Green Fields" (about which I'll have much more to say below).
The Boston Globe's Kevin Cullen puts Makem's success in a broader cultural context, writing that his "music inspired a phenomenon sociologists call 'third generation return,' in which the grandchildren of immigrants discover and embrace their roots. Tommy Makem sang to the Irish diaspora, some 70 million of them, songs that gave some context to the colonization and subjugation of Ireland that explained why you were listening to the song in Boston, Bristol or Brisbane."
Well, that doesn't quite apply to me, nor to the Loy family's original Makem fanatic, my dad. We're considerably more than three generations removed from our Irish roots: my paternal grandmother, Helen McNamara Loy, was 100% Irish, but she was already several generations (we're not sure exactly how many) removed from the McNamaras who immigrated. My dad is 50% Irish, and I'm just 25%. Still, I don't think there's any doubt that consciousness of our Irish heritage made each of us, in turn, more likely to enjoy and embrace Makem's music.
Anyway, a bit of history is in order here. Papa & Nana Loy liked the Bing Crosby-type Irish music, not the rowdier fare sung by the lads in white sweaters on Ed Sullivan in 1961 (when my dad was 13), so Makem and the Clancys never made their way into the Loy household when my dad was growing up. Thus, although he was a teenager throughout much of their glory years, my dad wasn't actually exposed to their music until he arrived at Georgetown in the fall of 1966. His interest was piqued by a roommate's vinyl record of the band, and before long, a lifelong pastime was born.
My dad attended his first Clancy Brothers & Tommy Makem concert in November 1967 at Lisner Auditorium on the George Washington campus. After the concert, he went to a nearby Irish pub with his then-girlfriend. Liam Clancy was at the pub, too, with two lovely ladies — both of whom he left at his table to walk over and flirt with my dad's girlfriend. Heh. (Liam was always something of a ladies' man, what with his mountain of women and all.)
In 1969, Makem left the Clancy Brothers to pursue a solo career but in 1975, he reunited with Liam — and so it was that my parents' first date, on April 24, 1976, was a Makem & Clancy concert at The Bushnell in Hartford. So, in the Marty McFly/Enchantment Under the Sea sense, it's entirely possible that if it weren't for Tommy Makem, I wouldn't be here.

My parents got married in May 1977, and I was born in October 1981. By that point, they had built up an impressive collection of Clancy Brothers and Makem & Clancy records, and I grew up listening to those records. While other kids were singing about mulberry bushes, twinkling stars, and row, row, rowing boats, I was learning sea chanteys like "Haul Away Joe," rebel anthems like "The Rising of the Moon," and drinking songs like "The Moonshiner." By age three, I could recite most of "Will You Go Lassie Go" verbatim, and not long after, I was intoning whole verses of "Four Green Fields" and — most infamously — "Drink Up The Cider," the one about knocking the milkmaids over and rolling them in the clover. ;) In other words, I grew up listening to this stuff, singing it, and loving it. Irish music, as sung by Makem and the Clancys, became part of my identity from a very early age… so much so that, as I said on Tuesday, the songs "comprise a substantial portion of my life's soundtrack."
I'm not certain whether I ever attended a Tommy Makem concert as a kid. My mom thinks we all went to a Makem & somebody concert in Shelton, Connecticut at some point, probably in the very late '80s or very early '90s, but I'm not certain about that. I remember going to an Irish music concert in Massachusetts during roughly that same time frame, but I believe that was the Clancy Brothers in some combination, without Makem. I know my parents saw Makem in Newington in 1994, when I was 12, but it so happened I was out of town that week, visiting Wisconsin with my uncle and aunt and cousins. I also know I saw Liam Clancy with my parents at Mystic in 2001, but that was looong after his 1988 breakup with Makem.
Regardless, I feel very lucky that I was able to see Makem twice in the last two years of his life, both times at Notre Dame's DeBartolo Performing Arts Center. The first time was on September 30, 2005; regular readers might remember me blogging about the unique sequence of events that began with a prayer for serenity at the Grotto (this was shortly after Sarah LeFoll's death) and ended with me remembering, at almost literally the last minute, that Makem was on campus that night, snatching a ticket just as the doors were closing, and having an absolutely fantastic time. The only downside was that, because I forgot about the concert until just before showtime, I wasn't able to drag Becky along. But almost a year later, on September 15, 2006, I did just that when Makem returned to campus, and Becky — who is not easily impressed — declared Makem "an utterly enchanting performer." I'm so glad I was able to share him with her before he died.

I want to harken back, though, to the 2005 concert for a moment. Whereas Makem's opening act in '06 was the middling local Irish band Kennedy's Kitchen (Becky thinks they're awful; I think they're OK, but not great), his opening act in '05 was the Makem & Spain Brothers — his own sons Shane, Conor and Rory, plus Mickey and Liam Spain — and they were very good. Moreover, Tommy himself was excellent in 2005. Not that he wasn't good in 2006 too, but by then he'd been diagnosed with lung cancer, and you could tell he'd lost just a little of the spring in his step and the robustness in his voice. In 2005, though, the Bard of Armagh was still just about 100% on top of his game, particularly in the concert-ending encore performance that I'll remember as long as I live, of Makem's own "Four Green Fields." Before I describe it, those who don't know the song should probably listen to it:
Here are the song's lyrics. As you can tell, it's a potent anthem for the Irish republican cause. Well… I presume you can tell that. If you can, that puts you a step ahead of Associated Press writer David Tirrell-Wysocki, who, in a hilariously clueless spasm of ignorant literalism, said Makem "brought audiences to tears with 'Four Green Fields,' about a woman whose sons died trying to prevent strangers from taking her fields." That's kind of like saying that George Orwell enthralled readers with his children's story about talking pigs. "Four Green Fields" isn't about a woman and her fields, it's about Ireland (personified as an "old woman") and its four provinces (represented by "green fields"), one of which remains occupied ("taken") by the British (the "strangers") despite the best efforts of the Irish people (her "sons"). How anyone could be allowed to write the official AP obituary of Tommy Makem without understanding that basic bit of fairly straightforward symbolism in his most famous song, I have no idea.
Anyway, where was I? Ah yes, the '05 concert at Notre Dame and its grand finale, Makem's rousing performance of "Four Green Fields." Now then, before I continue, I should probably pause to say that just because I love the song doesn't necessarily mean I endorse everything it arguably espouses (although it doesn't explicitly endorse violence, it can certainly be interpreted that way). I love the song not because of its political message, but because it's a beautiful, poignant, powerful song, and because when Makem was on the microphone, it was always beautifully, poignantly, and powerfully sung — never moreso than on that September night in 2005, when the then-72-year-old Bard of Armagh belted out every note with so much flair and vigor that you'd have thought he was still 28 and fresh off his white-sweatered debut on Ed Sullivan. In my mind's ear, I can almost still hear his wonderfully warbling baritone, decrying the "plundering and pillage" and mourning the starvation of the Irish people "by mountain, valley and sea." To borrow a turn of phrase: his voice shook the very heavens. (In the process, it apparently shook down the thunder from the sky, considering he was at Notre Dame on the eve of the Purdue game, and his appearance had been advertised by flyers asking, "Can this man help us beat Purdue?" Answer: yes!)
But the grand finale's grand finale came in the third and final verse when — as Tommy took a breath after singing "I have four green fields / One of them's in bondage / In stranger's hands / Who tried to take it from me" — his sons, the Makem Brothers, emerged from the shadows (they and the Spain Brothers had been quietly doing background vocals and instrumentals throughout the song) and sang the next line along with him: "But my sons have sons / As brave as were their fathers!" Then the sons stepped back into the shadows, and the father finished the song: "My fourth green field / Will bloom once again, said she!" It was an exquisitely powerful musical moment, one that words can't do justice, nor could a video or audio recording, if I had it (which I don't). I daresay it's right up there with Great Big Sea's a capella rendition of "Old Brown's Daughter" as the most memorable single musical performances I've ever seen. And, especially now that Makem's gone, I know I'll cherish that memory forever.
Anyway… I think that's just about all I have to say about Makem (finally, right?). But before I sign off, here's a bit more of what the Globe's Kevin Cullen had to say:
Like all great troubadours, Tommy Makem isn't dead. His body is lifeless, having finally succumbed to the lung cancer that ate away at him the last few years.

But Tommy Makem was an Irish soul singer, and souls don't die. His music is preserved, on the old vinyl LPs he made with his pals, the Clancy brothers, more recently on CDs, more intimately in memory, in the hard drive of any brain that heard his basso profundo voice.

To hear Tommy Makem sing "Four Green Fields" was to hear Enrico Caruso sing "Vesti la giubba," or James Brown sing "I Feel Good." He was for Irish traditional music a great ambassador, and a consummate performer.

But anyone who met Tommy Makem – and I met him several times – will tell you that he had that Clintonesque ability of making you feel like you were the only one in the room with him, that whatever you had to say was more important than what he had to sing.
Anyway… how to end this post? Not with another "Rest in Peace" or "Thanks for the memories"… I mean those things, but I've already said them. I've also done the whole irreverent tribute thing. So I guess perhaps the best conclusion is to post one final Clancy Brothers & Tommy Makem video clip. And it's a good one: Rocky Road to Dublin, back when the boys were all together. Enjoy: