Archive for the 'West Coast Trip 2006' Category
Wednesday, July 5th, 2006
Alas, Brendan & Becky's Excellent West Coast Adventure is almost over. Tomorrow morning, we'll be waking up at 3:00 AM (arrgh) to catch an airport shuttle at 3:45 AM and a 5:25 AM nonstop America West flight back to Phoenix. We're scheduled to land at 8:16 AM, and I hope to be at work by 9:00 AM. So, less than 12 hours from now, I'll be back to the daily grind. (On the bright side, it's only a two-day week, and moreover, 26 hours from now, we'll be watching a midnight show of Pirates of the Caribbean 2: Dead Man's Chest. Woohoo!)
But anyway, I have a few more hours of freedom, and what better way to enjoy them than by drinking the last of Andrew & Bea's sangría and posting vacation photos to the blog? :)
We had a great day in Seattle. I wish we could stay longer, as it seems like there's a lot of great stuff to do in this city. But it was a fun day regardless. As planned, we met up with David and Lisa for dinner: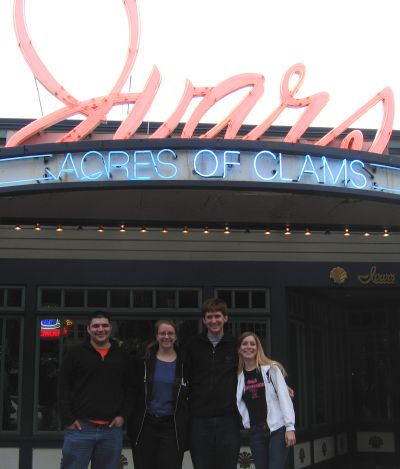 And, as noted earlier, I crossed visiting the Space Needle off my life's to-do list: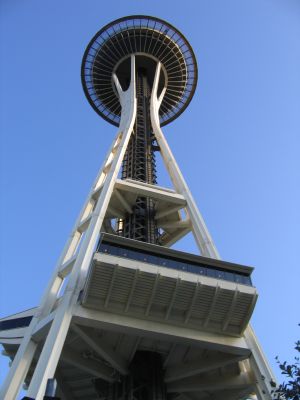 Very fun. More photos after the jump.