Bea and Andrew pose with the Colombian delegation at the Knoxville Hispanic Heritage Festival: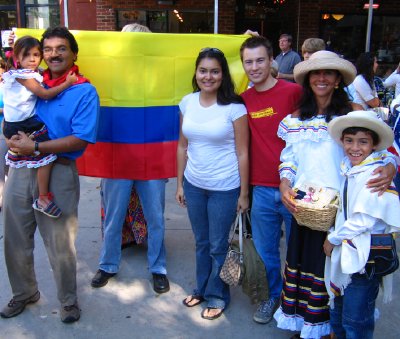 More pictures of the festival to come later. (Er, along with all the other
Wednesday, September 26th, 2007
[UPDATE: Welcome, InstaPundit readers! I published this post yesterday (Wednesday) evening. However, as noted below, the referenced episode of The War can be seen this Sunday, when the first five episodes will be aired back-to-back starting at 11:00 AM.]
* * *
Tonight at 8:00 PM, the fourth episode of Ken Burns's documentary on World War II, The War, will air on PBS. (It'll be rerun at 10:30 PM and 2:30 AM, and on Sunday at 5:30 PM. The first five episodes will be aired consecutively on Sunday from 11:00 AM to 10:30 PM.) The episode, titled
"Pride of Our Nation," details the events that occurred from June through August of 1944, including D-Day and the battles of Tarawa, Saipan and Tinian.
As I've mentioned before, my Grandpa Loomer was a Marine, and he fought in all three of those battles. Here's a photo of him — wearing the fatigue jacket that he would later give to me — sitting on a wrecked Japanese airplane along a captured airstrip in Tinian:
My mom, who has been watching The War with considerable interest these last two nights, e-mailed me yesterday to share some more details about our family history vis a vis World War II. (My paternal grandfather was in his 30s by the time the war broke out, so he didn't fight. As a result, it was on my mother's side that the war's impact was most acutely felt.) Ken Burns's focus on the impact that the war had on ordinary people has gotten my mom thinking about how it affected her own family. She wrote, in part:

We are from a
family wrapped around World War II. Grandpa started going out with Grandma in the summer of '42, while planning to enlist in the service as
a carpenter 4th class. When he found out how much more officers
earned, he decided to do that [instead], [so] that he could support a wife, and
proposed to Grandma. They were married in Fredericksburg VA, right
near Quantico VA [home of the Marine Officer Candidate School. He was 26 years old, and she was 25.] They
had to wait to have a wedding reception when he got 30 day's leave, a
month later (and they had gotten married on a 3-day pass at Christmas).

When he shipped out it was with the 2nd Marine Division, seeing combat
on Tarawa, then Saipan [and] Tinian … He and Grandma didn't
know when they would be able to start a family, with all the danger Grandpa was in, so they were married from Dec. 1942 through 1944
putting it off. It finally reached the point where they thought if
they waited any longer, they might have to wait ten years (which before
the bomb seemed likely). So when he was sent back in California (as it
turned out for his last leave), in late 1944, he and Grandma stayed
together there for three months, and it was then that they decided they
shouldn't wait any longer. When Grandma saw him off and took the train
back home to Wisconsin, she was 1 month pregnant with Patty. As a
result, Patty was born before the end of the war (4 days before Roosevelt died). Grandpa got posted to Japan for the occupation and
didn't get home until early 1946, when Patty was 8 months old. (That
was the first time he saw her.) But not knowing what lay ahead, their
going ahead as they did was pretty brave. Patty's best friend
in high school was raised by just her mother. Her dad had died in the
war. We knew of other families like that, young widows raising small
children alone. …

When we were
little kids, there were assorted things around the house that we never
thought were unusual — a (real) Japanese kimono for a small child (for Patty), a stuffy named Zealy that Grandpa had bought in New Zealand (also for Patty – it's a rabbit). We also had a ceremonial Japanese sword in the attic, Grandpa's full-dress uniform, his rifle
and bayonet, the fatigue jacket he gave you, some really cool toy
military vehicles — scale models, very accurate and well-made. He
also had a book of photographs that had been made and published for the
veterans of one of the above battles. Lots of images like on the Ken Burns special, flame-throwers shooting into caves, burnt corpses of
Japanese soldiers, battle landscape, etc. Grandpa had a rising sun
flag (red circle on white) with a lot of Japanese characters on it. Much, much later, he decided to try to find the family of the soldier
it had belonged to. He actually did locate them (with the help of
someone who could read Japanese, and a few other contacts) and sent
them the flag. They were grateful — they had lost their son in the
war and it was something of him being returned.

As I know I've told you, Grandpa never talked much about the war to
us. I remember (idiot that I was) asking him how many Japs he had
killed, but I don't remember whether he gave me an answer to that. Once, when a relative of one of our Macomb neighbors visited who
happened to have been a soldier under Grandpa's command, the two of
them sat out in the backyard for quite awhile one evening reminiscing. That's the only time I remember him talking about it. Even the
fact that he got flashbacks when he was too close under fireworks, I
didn't learn until you were a little kiddo and we were spending the 4th
of July in Arkansas with him and Grandma.
Grandpa was away at war when his mother died. Of course a person can't
come home for something like that in the middle of the war, but I think
he never got over that. I told Grandma once [years later, after Grandpa died] that it seemed so unfair that she and Grandpa had had to sacrifice
so much as a couple — the first four years of their marriage, delay in
starting their family, getting married alone far from home, having the
fear of death always hanging over them for 4 years because of Grandpa's
combat — and she just smiled and said that everybody was doing it. I
found a letter she wrote to her mother when she and Grandpa were
traveling west as newlyweds to get him to San Diego, and she was
telling her how exciting it was to be starting off into the big world
with their whole lives before them.
Very interesting stuff, to me at least. When I asked if it would be OK for me to blog what she had written, my mom replied, "Sure. I think Grandma would be proud." As well she should be, and Grandpa too.