As I mentioned earlier, my parents are in town this weekend, and tonight my dad and I went to a Tennessee Smokies game. I had totally forgotten that Notre Dame's Jeff Samardzija is a Smokie (er, a Smoky?), but he is, and there he was, standing in the dugout right in front of us: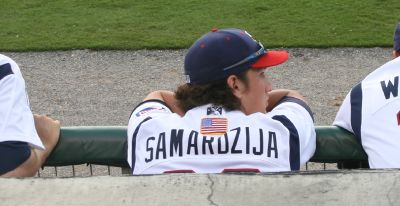 I couldn't resist saying something, so I walked up to the edge of the dugout and yelled "Hey, Jeff!" a couple of times until he heard me and looked over. I then said, "Go Irish!" He responded with a sort of half-smile and quasi-acknowledgment that suggested he gets that all the time from Notre Dame fans who feel so passionately about the Irish that they figure it's perfectly reasonable to treat famous ND alums like long-lost buddies and thus randomly say "Go Irish" at them. Heh.
Alas, Samardzija wasn't pitching tonight, but it was cool to see him anyway. He's got a blog, by the way.
Anyway, the Smokies won the game, 8-3, and we had a good time. Here are a few more pictures: