Man, oh man, has it been a great year to be an unheralded, small-conference school in western North Carolina, or what?
First Appalachian State beats Michigan in the Big House. Then Gardner-Webb beats Kentucky at Rupp Arena. And now Davidson — Appy State's conference-mate — is going to the Elite Eight.
Just call it the Bermuda Carolina Triangle: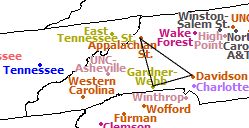 "Abandon hope, all ye major-conference foes who enter here!"
Heady days in western Carolina. HOT! HOT! HOT!