Shannon's visiting us this weekend, and today we drove out to the Smokies. Here we are in Cades Cove with a sleepy Loyette: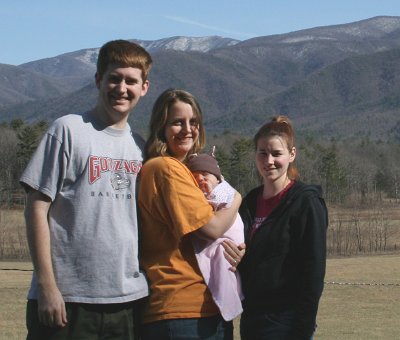 Shannon, incidentally, sat next to Lady Vols star Nicky Anosike's 6-foot-10 brother, Ifesinachi (a.k.a. "E"), on her flight into Knoxville on Thursday. (He had requested to change seats because he couldn't fit well in his original seat near the back of the plane, and being next to 5-foot-3 Shannon worked well.) She said he was a really nice, friendly guy, and they had a nice time chatting on the flight. Their flight ended up making the news, in the lede of the AP article about Tennessee's senior-night win over Florida on Thursday:
KNOXVILLE, Tenn. (AP) — Nicky Anosike's family arrived just after halftime to see her play in her final home game at Tennessee on Thursday night.

By then she and the third-ranked Lady Vols had already taken care of business.

"They are always late. I expected that, and I was prepared for it," she joked after her family's flight from New York was delayed.
Heh.
Anyway, back to today's trip to the Smokies… I also got a couple of nice photos of deer: