It's Badger Tuesday… or, as I prefer to call it, Cheesehead Tuesday!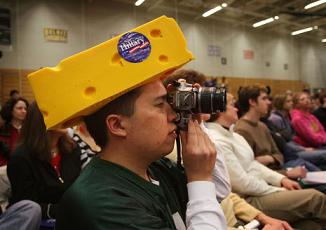 The polls will close in Wisconsin at 9:00 PM EST — which, coincidentally, is when the Hawaii caucuses will begin. Hawaii caucuses begin at midnight EST and end at 12:30 AM. Oh, and let's not forget Washington state's utterly meaningless $10 million beauty contest… actually, on second thought, yeah, let's forget it. :)
Anyway, in honor of Cheesehead Tuesday, I give you… nearly naked hotties for Ron Paul! (SFW.)
On a more serious note, Fly On The Wall offers an excellent critique and analysis of the the various arguments about legitimacy vis a vis delegates, superdelegates, the popular vote, etc.
And speaking of superdelegates, here is a brief history of how they came into being, and why. Though, on that point, I have a slightly different theory:
HILLARY: "Do you know how the Superdelegates first came into being? They were Pledged Delegates once, taken by the dark powers. Tortured and mutilated…"

[The Superdelegate growls.]

HILLARY: "…a ruined and terrible form of life. And now… perfected. My fighting Automatic Delegates."

HILLARY: "Whom do you serve?"

SUPERDELEGATE: "Hillary!!"
Yes, I suck at Photoshop. :)
Anyway… the other big story of the day is the Obama "plagiarism" scandal, which may — may — be hurting Obama in the polls. More importantly, will it hurt him at the polls, in Wisconsin tonight? We shall see.
Personally, I can't believe the media isn't making the obvious connection between this latest example of Obama plagiarism, and the far more blatant example that's been hiding in plain sight:
Can we co-opt a cartoon show's slogan as a presidential campaign rallying cry? Yes we can! :)