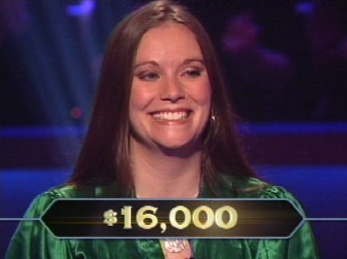 Now that my Who Wants To Be A Millionaire? segment — or rather, Diane's segment featuring me — has aired everywhere it's going to air (most recently in St. Louis, ending moments ago), I think I'm safe re-posting the original blog entry that I published, then quickly yanked offline at ABC's request, in the immediate aftermath of the taping back in September.
Here's what I wrote, in a post originally titled "Millionaire update" and timestamped 4:47 PM EST on 9/11/07:
I just helped Diane get the $16,000 question right on Who Wants to be a Millionaire!

Well, really, Google and Wikipedia helped her get the $16,000 question right. But my fast typing skills helped. :)

The question was, "What does a mycologist study?" (Well, it was
worded more verbosely than that, but that was the gist.) I forget what
the first three choices were, but the fourth choice — "d" — was
"fungi."

I was already on the Wikipedia page, and ready to blurt out "fungi," by the time she was done reading choice "b" (whatever it was).

They don't actually let you stay on the line long enough to hear
whether they got it right (though I did stay connected just long enough
to hear Meredith Viera make a bad pun about me being a "fun guy"), but
she sounded like she was going to confidently go with my answer, which
would mean that unless the collective tubular wisdom of the Internets is wrong, she did indeed get it right. (I sure hope the Internets aren't wrong, because I told her I was 100% sure!)

P.S. I hope there isn't anything wrong with me revealing this
information. Certainly, I never signed any confidentiality agreement,
nor was I asked orally or otherwise not to say what happened, so I
don't see how I can be violating anything by posting this…
Heh. As I explained later that day in a 5:53 PM post, the above-quoted 4:47 PM post was a problem — though I still maintain that I wasn't violating anything — and I voluntarily removed it. Now, more than three months later, I'm finally re-posting it. (I briefly re-posted it earlier today, but then it occurred to me that the show hadn't yet aired everywhere, so I yanked it offline again.)
By languishing unseen behind an iron curtain of self-censorship for more than three months, the post shatters the record previously held by this post, which was embargoed for just under a month at Professor Bill Kelley's request. ;)
Anyway, the $16,000 question was the last one for today's show. Diane will be a "holdover" contestant on tomorrow's show, starting with the $25,000 question. Tune in to see what happens! (Check your local listings to find out when it airs.) Again I say: Goooo Diane, Beeeeat Meredith Viera!