Heh.
That's USC alum Michael Walsh, a.k.a. lex icon, at left, and UCLA alum Mike Tran at right, looking pretty sanguine under the circumstances.
(This is all because I won a bet, in case you forgot.)
In accordance with the terms of the bet, Tran's ride will be flag-adorned all day today and tomorrow. So there will be one extra Trojan car driving around the streets of L.A. (or Orange County, whatever) during the Rose Bowl.
Hopefully Mike will manage to contain his self-loathing enough not to drive across the center line or anything. ;)
Here's another shot of just the car with the flag: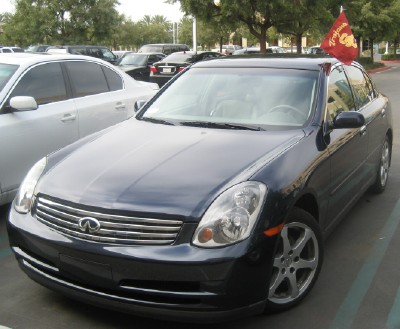 Fight on Trojans, Beat the Illini!!!