Our bundle of joy is here!! She was born at 2:13 PM, weighing 7 pounds, 14 ounces, and she's 21 inches long. She's got a full head of brown hair, and she's the most beautiful thing I've ever seen. :)
:)
UPDATE: Here's a photo of me with Loyette: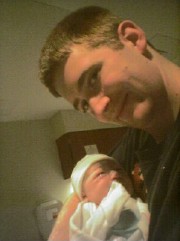 P.S. For anyone who may have missed my earlier posts on the topic, "Loyette" is the baby's blog nickname. She has a real name, obviously, but we're not revealing it on the blog because we don't want her to be easily and instantly Google-able from birth.