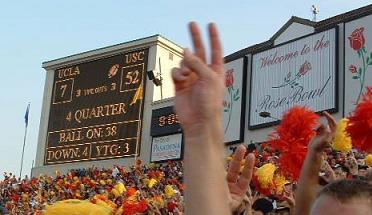 USC says it may move its home games from the Coliseum to the Rose Bowl starting next season, due to a breakdown in negotiations with Coliseum management. Scott Wolf says this announcement, particularly in light of its timing the week before the UCLA game, "really smells like a negotiating ploy by USC to pressure the Coliseum into agreeing to its demands," which Wolf suspects involve not just "improvements" but "revenue-sharing plans (like luxury suites)." Here's how USC's top lawyer, senior vice president for administration Todd Dickey, characterizes the university's demands:
"Our first choice is to play at the Coliseum. However, the Coliseum needs some significant improvements. The sound system is barely audible, the video system is failing, the bathrooms need upgrades, the entrances, the seats, the lighting, just about everything needs work."
Dickey says USC "has offered to make those improvements," but the university doesn't want to "just to hand the money over to the Coliseum Commission" — it wants to "actually operate the facility." That, naturally, is the sticking point. The quasi-public Los Angeles Memorial Coliseum Commission doesn't want to hand over the keys of the kingdom to those high-falutin' University of Spoiled Children snobs. [/sarcasm] The L.A. Times opines: "some political observers have suggested that commissioners would like to avoid making themselves superfluous." You think?
The Rose Bowl is a neat and historic venue (of course, so is the Coliseum!), and this would be a return to tradition of the Trojans and Bruins sharing the same home stadium (the Bruins were at the Coliseum from 1928 through 1981), and perhaps both wearing their home jerseys when they square off each season. But it would stink for USC students. The walk to the nearby Coliseum — kicking that flagpole for good luck on the way, and then walking past the rose garden, and past the local Mexican food vendors selling churros and such — is a memorable aspect of football Saturdays at 'SC. Braving traffic on the 110 to Pasadena would be far less romantic, and far more inconvenient.
And of course, it would stink for the L.A. economy, too, from hotels and restaurants on down to those food vendors I mentioned, not to mention the locals who charge obscene prices for parking near the stadium. As a result, Mayor Villaraigosa is raising a ruckus, pontifficating about how he is "absolutely committed" to maintaining the status quo: "USC football is one of the most important economic engines in South Los Angeles and the Mayor has no interest in seeing those jobs leave for Pasadena." I'm not sure whether the Mayor's "interests" matter for present purposes, except perhaps to get the Trojans some bad press from Telemundo, but I suppose he might be able to pressure the Coliseum Commission to make USC happy. [UPDATE: Boi From Troy, who, as an Angeleno, has far better knowledge than I of the strange quasi-governmental structures they have out there, points out that Mayor Villaraigosa "matters because he directly appoints 2 of 9 Coliseum Commission members." Well then! I stand corrected. But my error was totally worth it for the Mirthala Salinas joke.]
In any event, Pete Carroll isn't concerned about a possible move to the Rose Bowl. "It's kind of been our second home since we've been here," he says. Heh. Indeed.
Some players, however, aren't taking the news so well. The Coliseum is "my home," said linebacker Keith Rivers. "I wouldn't want to change that." Added offensive linesman Jeff Byers: "[You can take our lives but] you can't take away the Coliseum. [I AM WILLIAM WALLACE!!]"
I'll just say this. If, heaven forbid, USC loses to UCLA on Saturday, it almost certainly won't be because the players were distracted by this news. But no one will be able to prove that that wasn't a contributing factor, and as a result, people will talk about it, and they'll wonder, and they'll gripe. The university will take a lot of heat for its ridiculously poor (well-calculated, no doubt, but in the grand scheme of things, poor) timing here. And rightfully so.
Of course, there's a simple way to avoid that problem: BEAT THE BRUINS!!!
P.S. On the bright side, a move to the Rose Bowl would mean USC students wouldn't have to deal with being physically assaulted by Coliseum rent-a-cops.
P.P.S. Also, a doubleheader at the Rose Bowl next November 8 — Oregon State @ UCLA, then Cal @ USC — would be way fun. Er, except for the hellacious traffic, that is.