I've posted my photos of last night's Red Sox celebration on Flickr. Some are regular digital photos, some are cell-phone pics, and some are screen grabs from my video of the end of the game. (By the way, I just posted a brighter version of the video. The original version was kinda too dark to see what was going on.)
You can also view the photos in slideshow form if you like. Here's one of 'em: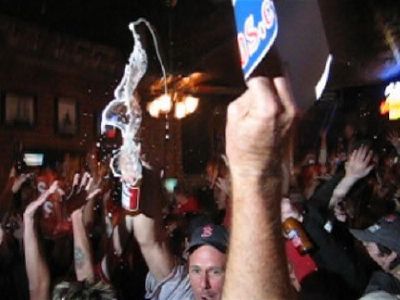 Getting to watch the Red Sox win the World Series in a bar packed wall-to-wall with Boston fans — in the heart of enemy territory, downtown Denver, no less — more than made up for something I've always regretted: when the Sox won the 2004 World Series, I was watching in the rather uninteresting environment of my couch at Fischer Grad Residences, with just one other person (a classmate who wasn't even really a Sox fan), while a bunch of my 1L classmates, who had a paper due the next day and thus had been at the library all evening, were (unbeknownst to me until the next day) gathered in the Law Lounge watching together, and then got to witness Rob from Boston, a lifelong die-hard Sox fan who never thought he'd see them actually win the Series, go completely nuts, jumping up on tables and running out into the night screaming his head off. I always regretted that I missed that. But last night was even better.
GO SAWX!!!