At 10:45 PM last night, I was sitting on an MTA bus in Nashville, brooding silently. My "worst birthday ever" was winding down with a whimper. Oh, I'd had fun counting down to midnight with Kristy the night before (after which she serenaded me with an interpretive dance to the strains of Journey's "Don't Stop Believin'," played on my iTunes), and of course, I'd gotten my free taco from Taco Bell. But mostly, my 26th birthday had been drudgery: a six-hour mandatory CLE class, a pair of Southwest flights that had gotten me from Denver to Nashville, and now a couple of lonely bus rides. At 10:45, I was en route to the Greyhound station, from which I would depart for Knoxville. It looked like I'd be spending the final 75 minutes of my birthday travelling to, and then waiting around in, a grungy Greyhound station. (My bus wasn't scheduled to leave until 12:45 AM.) I was cranky, I missed Becky, and I was just generally annoyed about the overall suckiness of my birthday.
When the bus dropped me off at around 11:00, things got even worse, because now I was in the heart of Nashville at 5th and Broadway — which, for those who don't know, is the home of a whole bunch of great honky-tonk bars. The sound of live music was wafting out into the street, tempting and torturing me.

I would love, I thought, to spend the last hour of my birthday sitting in a bar, listening to some live country music. And with almost two hours until my bus was scheduled to leave, and the bus station only three blocks away, I had time to do just that. But it was (I thought) logistically impossible: I was dragging around a suitcase and a garment bag and hauling a heavy backpack with, among other things, my laptop inside it. With all that luggage, I'd barely have fit through the door of one of the bars. And it's not like I could leave my luggage somewhere. I was traveling alone, so I had nobody to watch my stuff. So I turned away from the awesomeness of Nashville nightlife and resigned myself to the fact that the last hour of my birthday would be just as crappy as the first 23 hours. Up the hill toward the Greyhound station I walked, still brooding.
But then! When I got to the station at around 11:10, I beheld a miracle: it has lockers!!! Okay, maybe not a "miracle," but a possibility I hadn't considered, for sure. Anyway, yeah, the station has lockers — big ones — so I didn't hesitate: I picked up my bus ticket at will call, then stuffed all of my bags into a locker, secured it, and headed right back out into the night, back to 5th & Broadway, to finish off my birthday in style.
It was about 11:25 when I got back there, so I figured I had about 35 minutes at the bars before I needed to head back to the station. Naturally, I resolved to make the most of it. So I started out at Second Fiddle, where I listened to a couple of songs; then I headed to Layla's Bluegrass Inn for a couple more songs; then to Tootsies for a couple more (including "Happy Birthday," although they were singing it to an attractive young lady on the dance floor, not to me); and finally (or so I thought) to Legends Corner for yet a couple more. Totally awesome.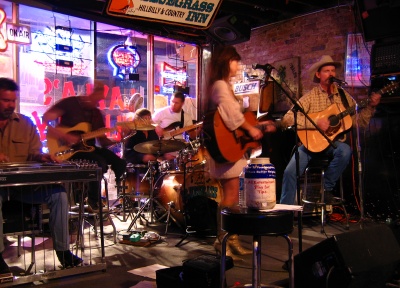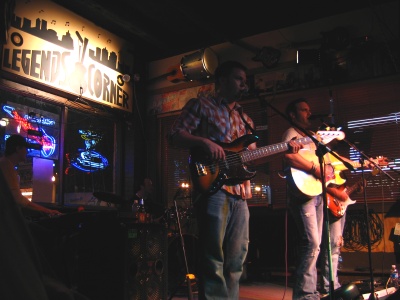 When the band at Legends finished playing "Sweet Home Alabama," which I love, and I saw that it was 11:58, I figured that was my cue to leave. So I tipped the band and headed out, crossing the street with every intention of turning away and trudging back up to the Greyhound station. But then I glanced into the window of the Full Moon Saloon, and found myself drawn inexorably inside by the gravitational pull of the comely female fiddle player in the snug blue jeans. (It was the fiddle that drew me in, of course; I love fiddles. What did you think I meant?) Unfortunately, that band wrapped up their set literally 20 or 30 seconds after I walked in the door, so I headed back out onto the street again… but now my appetite was whetted for one more bar, one more band, one or two more songs. Hey, it's only your 26th birthday once!
It was midnight now, but I reckoned I could afford another 5 or 10 minutes. So I slipped into The Wheel next door. The band there played a couple of nice songs, and then at around 12:07, busted out Johnny Cash's "Ring of Fire." Now that is a thoroughly proper way to end a session of honky-tonk bar-hopping, not to mention a birthday (albeit a few minutes late). I hooted as they started playing it, sang along for the chorus, then walked back out the door (applauding as I went) after they finished. I turned left and headed back toward the Greyhound station. It was 12:11 AM. I got back to the station at 12:19, retrieved my stuff from the locker, and made my 12:45 bus with plenty of time to spare. I even got a good seat.
And that, ladies and gentlemen, is how a crappy birthday turns awesome at (literally) the eleventh hour. In 45 minutes, I went to six bars, listened to six bands, and totally redeemed my birthday. Then I slept like a baby on the bus ride home. And I'm half-consciously humming "Ring of Fire" as I write this.
I love Nashville. :)