USC survives, 27-24. Phew.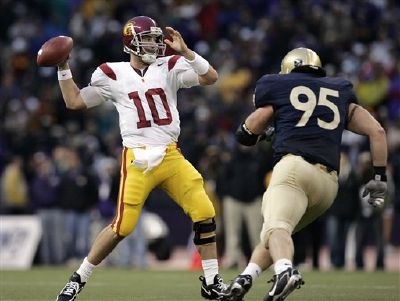 Good effort, Huskies. Way to hang in there till the end and make a game of it. As for the Trojans, it's nice to see that we can still win while playing like we're sleepwalking, committing 843 penalties for 458,629 yards (or something like that), and generally looking kinda crappy. But this sort of effort won't cut it when we travel to Oregon, Cal and Arizona State.
Meanwhile, Auburn stunned Florida, 20-17, hitting a last-second field goal to win it. Wow.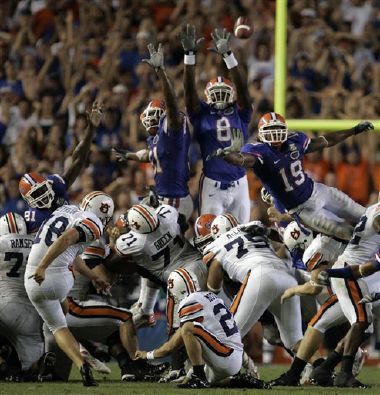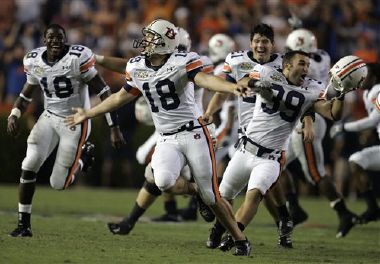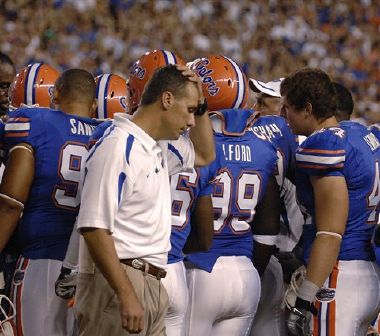 The #4 Gators join #3 Oklahoma, #5 West Virginia, #7 Texas and #10 Rutgers as losers this weekend. Again, wow. Check out next week's likely Top 4:
1. USC or LSU
2. LSU or USC
3. Cal
4. Ohio State
Holy hell!
If Florida beats LSU next week, and the Trojans and Bears win out through October and the first week of November, the Cal-USC game on November 10 could be #1 vs. #2!!!
By the way, let the record show that I was the first person who labelled today "Upset Saturday." And that was at 2:02 PM, before any of the day's Top 10 losses! :)
P.S. Auburn's win over Florida isn't just big for Auburn. It's huge for Big East co-leader South Florida, which knocked off Auburn on the Tigers' home field two weeks ago. It was starting to look like USF's win over Auburn was going to lose some of its lustre, but not anymore!
If the Bulls can run the table in the Big East, they can present themselves as serious national-title contenders. Imagine the following scenario: USC wins out and finishes #1. Florida recovers from tonight's loss, knocks off LSU next week, wins out and captures the SEC crown. The Big Ten, ACC and Big 12 don't produce any undefeated teams. South Florida, however, wins the Big East at 12-0. So… who is USC's opponent in the BCS title game? Florida, the SEC champion and defending national champ, can make a case for itself at 12-1… but what about USF? They'd be 12-0, Big East champs, and with a win over the team that beat Florida. Seems to me, the proper matchup in that scenario would be Trojans vs. Bulls.
Of course, that exact scenario probably won't happen, but in any conceivable scenario, it's very good news for USF that Auburn picked up this victory, and it'd be even better news if the Tigers seize on this win and really turn around their season.
Needless to say, any national-title talk is a long way off — and personally, I doubt USF will win out. Based on watching them play, I don't actually think they're all that good. But it's still fun to speculate about such things. :) A more immediate question is where the Bulls will be ranked next week. They were #18 this week, but the combination of their win over West Virginia with Auburn's win over Florida, plus all the other upset losses, should allow them to move up significantly.
If I had a vote, here's what I think my ballot would look like, off the top of my head:
1. LSU
2. USC
3. Cal
4. Ohio State
5. Kentucky
6. Boston College
7. South Florida
8. Wisconsin
9. Florida
10. Oklahoma
P.P.S. The Terrific Twenty-Three is down to a Fantastic Fifteen: Boston College from the ACC; Kansas and Missouri from the Big 12; Cincinnati, South Florida and UConn from the Big East; Purdue, Ohio State and Wisconsin from the Big Ten; Arizona State, Cal and USC from the Pac-10; Kentucky and LSU from the SEC; and Hawaii from the WAC. And with three of the four participants in next Saturday's supposed Games of the Century (OU-Texas, LSU-Florida) suffering losses today, the only unbeaten-vs.-unbeaten matchup next week is Ohio State at Purdue.
P.P.P.S. If anybody's wondering why I still haven't posted the pick 'em contest standings… I've misplaced the spreadsheet that I need to calculate 'em. It must be on one of my external drives. I'll try to find it tomorrow. :) Sorry!