[Well, I suppose I can let the blasphemy below stand, but I'm going to bump this post above it, at least. :) -ed.]
* * *
With apologies to the Neudorffs…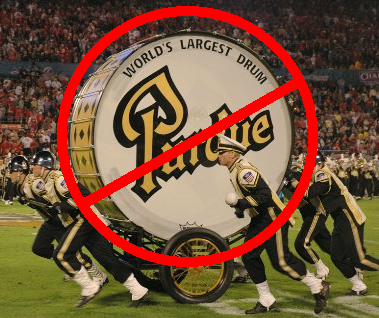 GOOOOO IRISH!!! BEEEEEAT BOILERS!!!
UPDATE: We've got Erin Andrews! w00t! And apparently she's been looking deeply into Charlie Weis's eyes.
UPDATE 2: If you look deeply into Charlie Weis's eyes right now, you'd probably see… panic. It's 10-0 Purdue already, with 5:49 left in the first quarter, and the defense looks like s**t. Boilermakers moving the ball at will.
On the bright side, here's one of the many reasons I love Becky: for the last three Saturdays in a row, she's made some sort of a yummy dip for us to eat while watching football: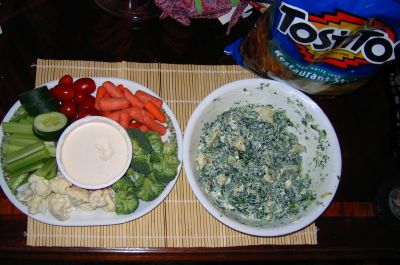 Mmm… vegetables.
UPDATE 3: What the hell was that? Darrin Walls just gave up on that tackle. It was like he just sort of assumed Greg Orton would go out of bounds… and as a result, Orton got loose for an extra 10 yards. Completely pathetic.
UPDATE 4: A sampling of commentary from ND Nation:
how f'n embarrassing

It cannot get worse than this.

HOLY F**K

F**k this. Good thing I have a kid's soccer game to get to.

this is just bloody awful.

Unf**kingreal.

We Are TOAST

USC will beat us by 80
UPDATE 5: I wrote earlier this week that "I feel like some of my fellow Irish fans aren't fully grappling with the enormity of the team's suckiness." Well, over on ND Nation, I think the "grappling" process is beginning. There are several comments along the lines of, "This is the worst team I have ever seen," and there's this post, which I agree with 100 percent:
We are inexplicably bad…in EVERY facet of the game. I can understand rebuilding. There is no excuse to be this bad, across the board. Yes, it's Ty's fault. But this is Weis' fault primarily. This team should be competitive by this point, and they're not even close.
The combination of our "improvement" against a very mediocre Michigan State team and our "brutal" early schedule (whose already clearly overrated "brutality" is looking even less fierce at the moment, with Penn State losing to Illinois, and Michigan — whose big "quality win" is over Penn State — losing to Northwestern) allowed some Domers to fool themselves into thinking that we'd be doing much better if we were playing weaker teams. Now, they're saying things like this: "The sad thing is PU isn't even good. That's how bad we are." "Nope. They're a .500 Big 11 team."
It's 23-0 with 2:50 left in the first half. Two touchdowns and three field goals. If Purdue had any kind of a red-zone offense — if, say, we were playing USC or Boston College today — it'd be 35-0 right now. We're lucky to be "only" behind 23-0.