#18-ranked South Florida upset #5 West Virginia tonight, 21-13, in a sloppy but entertaining Big East showtown that ESPN2's Sean McDonough introduced as "the biggest game in the history of our Friday-night telecast." And the outcome makes it the biggest win in the history of USF's young football program.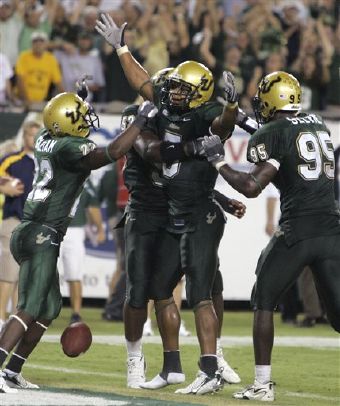 With the loss, the Mountaineers join Louisville and Pittsburgh in a tie for last place in the Big East, while South Florida is tied with UConn and Syracuse for first. No, it's not opposite day: those are really the current conference standings. Who'd have thunk it? Huskies and Orange and Bulls, oh my!
Of course, the standings don't mean much at this point (everybody is either 1-0, 0-1 or 0-0 in conference play), but the more important point is that South Florida and Rutgers are now the presumptive front-runners for the Big East title (although, don't sleep on Cincinnati). McDonough even suggested that USF, which has a pretty favorable schedule outside of the Thursday-night showdown at Rutgers on October 18, could find itself in the national title discussion if it runs the table.
Methinks it would take a lot of attrition among the other members of the Terrific Twenty-ThreeTwo before most people would start seriously considering the Bulls for a title-game spot — but hey, that does tend to happen, so it's certainly within the realm of possibility. (It would help USF's case if Auburn could turn its season around, thus making the Bulls' win at the Tigers' home stadium look more impressive. That could be especially helpful if we end up having a BCS debate between an undefeated South Florida team and, say, a one-loss Florida or LSU team.)
Personally, I don't think USF is actually good enough to be true national-championship material. In fact, notwithstanding my bias toward mid-majors and other little-team-that-could success stories, I don't think they're close. In both of their games that I've watched — tonight's sloppy triumph, and the even sloppier win over Auburn three weeks ago — the Bulls won largely by taking advantage of a ton of unforced errors (and a few forced ones, too, in fairness), and would have won more easily if they hadn't made a fair number of bad mistakes themselves. I suspect that'll catch up with them at some point, and they'll eventually lose a game or two.
But their rise to prominence is a great story regardless, and if they do end up running the table, they certainly deserve to be duly considered as a national-title contender out of the very competitive league that the Big East has become.