Here's a rather entertaining video from our visit to Rocky Mountain National Park showing the SHA girls — Becky, Shannon, Kristy and V — running away from the terrifying spectre of… a chipmunk.
Note also my girly giggle.
You might hear Becky saying something about "bubonic plague." The reason is because, during the drive up, I had been reading aloud from a pamphlet outlining the various dangers campers might face in the park, and one of them was the possibility that various creatures, including chipmunks, might be infected with the plague. The girls took this remote risk a little too much to heart, methinks. :)
BTW, I'm sorry for not getting my full gallery of Denver pics up yet. Maybe later today. They're online now! :) Of particular interest, the all-important boob picture: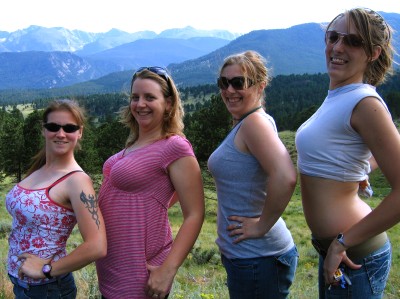 Heh.
I've split the gallery up into three sections: the Denver Zoo, our day in the Rockies, and other pics from the trip. Enjoy!
P.S. Aww, ain't we cute?