Becky and I recently unpacked several of our boxes of books from South Bend — yeah, the unpacking process has taken a while :) — and filled up our bookshelf. I'm particularly proud of the "nerd shelf":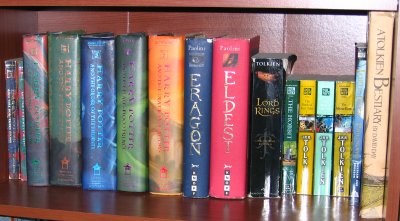 Speaking of which, I recently re-read Half-Blood Prince, which I hadn't read since the day it came out. I had forgotten a lot of its plot, so several things from Deathly Hallows suddenly make a lot more sense now. :) But I'm more perplexed than ever about one thing. So I have a question — but it's after the jump, because it reveals a major Deathly Hallows spoiler. (I hear there are still at least 3 or 4 people out there who haven't read it yet.) So… Warning: spoilers after the jump, and in comments.
In Chapter 2 of Book 6, Snape mocks Bellatrix's suspicions that his true loyalties lie with Dumbledore, not Voldemort, by saying, "You think [the Dark Lord] is mistaken? Or that I have somehow hoodwinked him? Fooled the Dark Lord, the greatest wizard, the most accomplished Legilimens the world has ever seen?"
Of course, in Book 7, it is revealed that Bellatrix was correct, and Snape did indeed hoodwink Voldemort. My question is: how? Correct me if I'm wrong, but I don't think this is ever adequately addressed in Book 7. I realize Snape is an accomplished Occlumens, but surely he was right in his statement to Bellatrix: nobody should be able to indefinitely deceive Lord Voldemort, the world's greatest Legilimens, especially when Voldemort has very good reason to be suspicious of their motives from the get-go! So what gives? How did Snape do it?