The I-35W bridge across the Mississippi River in Minneapolis collapsed today. City officials have declared a state of emergency.
More details as they come from CNN here.
UPDATE BY BRENDAN, 8:21 PM EDT: The bridge collapsed into the river at around 7:05 PM EDT (that's 6:05 local time, during rush hour, reportedly in bumper-to-bumper traffic). It's an eight-lane bridge, but according to an eyewitness interviewed by CNN-TV, only one lane was open in each direction because the bridge was under construction.
Still, the collapse sent many cars into the river. A school bus full of children was reportedly on the bridge, but did not fall into the river, though it is believed that some children were injured. Drudge says local media are reporting 20-30 injuries but no deaths, though it's very early for such assessments.
In case anyone is confused (I certainly was), the "W" in I-35W does not mean "westbound"; the "W" is part of the actual name of the highway. As explained by the I-35W Wikipedia page, "I-35 splits into two branch routes, I-35W and I-35E at Burnsville. I-35W runs north for 39 miles (63 km), carrying its own separate sequence of exit numbers. It runs through Minneapolis before rejoining with I-35E to reform I-35 in Columbus." I-35W actually has northbound and southbound lanes, both of which fell into the river.
The now-collapsed bridge also has its own Wikipedia page. Here is a Google Maps view of the bridge. And here's what it looks like now: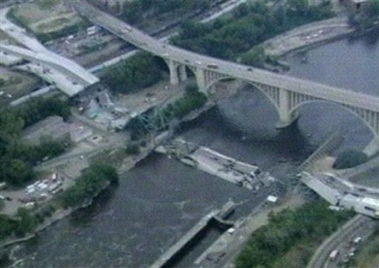 The intact bridge above and to the right of the collapsed bridge in the picture is the Cedar Avenue Bridge; it is not part of the freeway.
The Star-Tribune has much more; here are links to the main story and the photo gallery.
UPDATE, 8:59 PM EDT: Fox News says at least 3 people have died.
UPDATE, 9:12 PM EDT: I just noticed I now can't access either the Star-Tribune article or photo gallery, because I'm not a "member" of their site. They were working before, but aren't now. I just wrote them a nasty feedback e-mail, titled "Disable registration requirement during crisis!":
Are you a newspaper or a profit engine? For the love of all that is holy in journalism, temporarily disable your registration requirement, at least for those articles relating to the bridge collapse. Otherwise you are rendering yourselves completely irrelevant to the coverage of this national breaking-news story in your own city. What a disgrace.
UPDATE, 9:17 PM EDT: And the thunder rolls. Though luckily, it appears the heaviest weather will stay just northeast of downtown.
UPDATE, 9:28 PM EDT: I just wrote an e-mail to former Star-Tribune columnist James Lileks, now the editor of the S-T's buzz.mn, reading in part:
I'm e-mailing because I was wondering if you could shed any light on the Star-Tribune's registration policy vis a vis the bridge collapse. Less than an hour ago, I was able to view the photo gallery and article about the bridge collapse, even as a non-"member" of the Star-Tribune site. Now, when I click the links that were working previously, I see a registration wall, asking me to become a member. … [B]ecause I was initially able to access the relevant articles but now suddenly can't, I'm wondering whether they actually expanded the registration wall to specifically cover these articles, because they knew they'd be in high demand? If so, that would be REALLY disgraceful. But I don't want to jump to conclusions; maybe non-member browsers are always allowed a certain number of freebie pageviews before the "wall" kicks in, or something? Anyway, I was just wondering if you could shed any light on the situation, as an insider who has nevertheless been willing to criticize the Star-Tribune in the past, when they deserved it.
Naturally, Lileks's buzz.mn has no registration wall.
UPDATE, 9:39 PM EDT: Metroblogging Minneapolis has more.
UPDATE, 10:23 PM EDT: Six dead, according to buzz.mn.
FINAL UPDATE, 1:07 AM EDT: The death toll is now at 7. May they rest in peace.
A couple more photos, before I go to bed, from slide.com via buzz.mn: