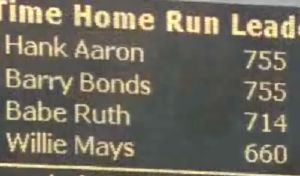 The last four consecutive nights, I've watched every Barry Bonds at-bat on ESPN2, not wanting to miss the historic home runs that would tie, and then break, Hank Aaron's record. But he didn't hit any. So of course it figures that tonight, when I totally forgot about Bonds and wasn't watching, he would tie the record.
I'm watching now. It's the 5th inning. Will he hit another tonight? If he does, he'll actually tie a Babe Ruth record — the career total for most multiple-HR games — in addition to breaking the more important Hank Aaron record.
Caveat: I don't like Barry Bonds, and I don't respect what he's apparently done to get to this point. But that doesn't mean I'm not going to watch history in the making.
P.S. You can watch #755 here. Also here.
P.P.S. Also tonight, Alex Rodriguez — who might someday break Bonds's record — hit his 500th homer, becoming the youngest player ever to achieve that milestone.
UPDATE: No #756 tonight. Bonds is out of the game, replaced by a pinch-runner with the score tied in the 8th.
Home run #755 was caught by Adam Hughes of La Jolla.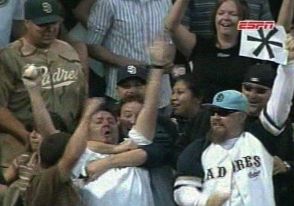 UPDATE 2: Barry Bonds knew about 9/11! Heh.
UPDATE 3: The pitcher who gave up the historic homer once tested positive for steroids. Heh.
Speaking of which, I thought it was pretty awesome that this ad aired on ESPN2 during the game:
First Steroids Awareness Day, and now this. Ah, the delightful little indignities that Bonds must suffer en route to his unearned place in history.
UPDATE 4: CBS Sportsline's Gregg Doyel is unimpressed with commissioner Bud Selig's handling of the situation.