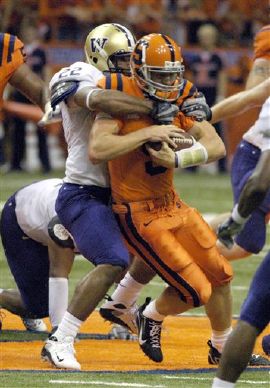 The Washington Huskies were supposed to win tonight's season-opener at Syracuse — one of the few times they'll be favored this year, given their brutal schedule — but a 42-12 shellacking of the Orange? That's pretty impressive, and bodes well for their chances to at least make a bit of noise this season, even though they're clearly going to lose a lot of games.
More broadly, this is good news for the Pac-10, which saw Oregon State beat Utah 24-7 yesterday, and now this. The big test, of course, is tomorrow night at 8:00 PM, when Cal hosts Tennessee. Five other Pac-10 teams are in nonconference action tomorrow too, including Wazzu at #7 Wisconsin and, of course, Idaho at #1 USC. The Cougars can lose (hopefully they'll keep it close), but all the others had better win for the sake of the conference's BCS reputation, as Chris Dufresne pointed out in the L.A. Times yesterday.
Tomorrow is, of course, college football's real opening day, as reflected in my countdown bar at left, notwithstanding the dribs and drabs of made-for-TV mismatches that have been played in the last two days. (Average final score: 38-10.) Not that most of tomorrow's games will be much better, what with such thrilling matchups as East Carolina at Virginia Tech, Appalachian State at Michigan, and Western Kentucky at Florida — and those are all before 1:00 PM! :) But still, 54 games in 12 hours is enough to get any fan excited, especially after the wilderness of the offseason.
Alas, my opening-day football-blogging will leave something to be desired, thanks to our visit to Buffalo and, specifically, the baby shower. It's at 1:00 PM, and yes, I'm going: I've been informed I have no choice. :) Notwithstanding the stereotypically girly character of such occasions, there will actually be at least four males in attendance — and the shower is apparently going to be held in the TV room, so there'll be no sneaking off to watch football. Hopefully it'll be over in time to catch the Notre Dame-Georgia Tech game at 3:30 PM…
Speaking of which, I almost forgot… time for my ritualistic weekly incantations…
GOOOOO IRISH! BEEEEEAT JACKETS! (Suck it, JT! :)
FIGHT ON, TROJANS! BEAT THE VANDALS!
P.S. Over at ND Nation, an 'SC fan dropped by to wish the Irish good luck against Georgia Tech, and throughout the season… except on October 20, of course. "AZDomer" responded: "I hope the earth opens up and swallows your entire school." To which another Domer, "The Flash," replied:
This world would lose one tremendous count of hot women were it to do so. It would not be worth it just because we have lost a few football games to their university.
Heh. Well, at least some ND Nation posters have some sense. ;)