As of today, Becky is officially 16 weeks pregnant — and little Baby Loy is now "about the size of an avocado." Here is a highly scientific image of what the baby currently looks like, created with the latest ultrasound technology: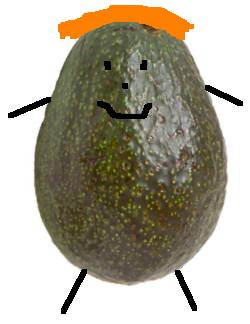 Note the hair color!
(What was that I said about this being crunch time? Well, I think I've officially cracked. With a mighty crunch.)
Anyway, on a more serious note, Becky has been reporting for almost a week now that she thinks she can sometimes feel the baby move around. I didn't believe her at first (it's pretty early for that, especially for a first pregnancy), but then yesterday morning, she pointed out that her baby bump* was distinctly lopsided — it was definitely over on the right-hand side of her belly. A few hours later, it was centered again. So yeah, I guess the little tyke is already squirming around in there. Maybe the baby is unusually active… either that, or we've actually got quadruplets and we just don't know it yet. But, shhh, never mind that now, I don't need anything extra to panic about, at least until the bar exam is over!
On a distinctly less serious note, this week of pregnancy marks the last week in Baby Loy's gestational life in which he or she will not know whether Harry Potter lives or dies. Oh, don't kid yourselves: that bit of knowledge will go directly through the umbilical cord into the baby's brain. It's that important. Anyway, yeah, by the time Week 17 starts, we'll be in Denver, either Voldemort or Harry (or perhaps both) will be dead, and I'll be in full-on, holy-crap, 24-hours-left-to-cram-for-the-bar mode.
Speaking of which… back to the books.
*Oh, and yes, she totally has a bump! It's not huge, but it's there. And when she wears maternity clothes, she looks totally pregnant and TOTALLY adorable. Thus far, she hasn't let me blog photos of any of this, but stay tuned. It'll happen eventually.