We decided to give our kitties a wee taste of freedom and adventure today. While sitting out on our front porch — Becky typing away on her iBook, me studying for the bar — we deliberately left about a slight opening in the sliding door, just wide enough for a cat to slip through.
Butter, perhaps having heard horror stories about the dangers that curiosity poses for her species, stayed safely ensconced inside the apartment. But both Sasha and Toby ventured out into the great unknown: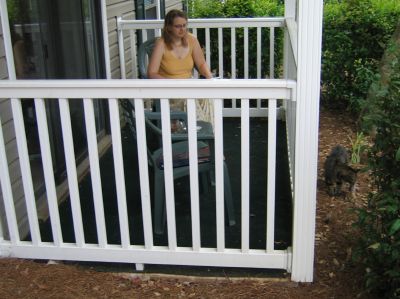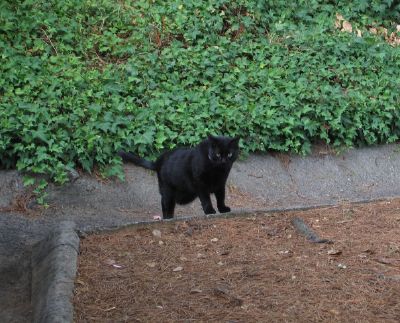 We kept a close eye on them, of course, and didn't let them stray too far from the porch. Toby seemed right at home, which isn't surprising, considering she spent a good deal of time outside during her kittenhood: in the yard, garden and driveway at Becky's parents' old house in Buffalo, across the street in Bassett Park, and even at more exotic, faraway locales like Mount Rainier and the Oregon Sand Dunes. Anyway, today she happily took advantage of the opportunity to use concrete to scratch an itch, and then went merrily exploring in the nearby bushes.
Sasha, on the other hand, has been an almost-exclusively indoor cat for her entire life, so she was a bit more skittish, wandering no more than a few feet from the fence (as the top picture suggests) and quickly scampering back when she got too spooked. Indeed, she ran back inside the house after maybe 10 or 15 minutes, having apparently had enough of the great outdoors. (At this point, Toby was still wandering through the shrubbery.) But of course, in stereotypical cat fashion, she decided she wanted to come back outside as soon as we shut the door. I couldn't resist videotaping her adorable efforts to paw through the glass:
Heh.
* * * * *
In light of our baby news, this post reminds me of a classic Loomer-Loy family story — one of my all-time favorites, actually.
Before my parents had me, they had two cats: Shirin and The Pooka. And of course, as "cat people" are wont to do, they would constantly regale their friends and relatives with tales of all the amusing things their cats were doing. (Sound familiar?)
Then, in 1981, they got pregnant with their first (and, as it turned out, only) child. They had been married for almost four years when they sat my dad's parents down and gave them the big, long-awaited news: a baby was on the way! Naturally, Papa and Nana Loy were excited and thrilled. But after the initial expressions of joy and congratulations, Nana — a.k.a. Helen McNamara Loy, she of the famously sharp tongue and acerbic Irish wit — muttered out of the side of her mouth, "Thank God, now we can stop hearing so much about those G**-damn cats."
I wonder if, up in Heaven right now, she's saying the same thing about me and Becky. I'd be a little disappointed if she wasn't, actually. :)
* * * * *
Speaking of Nana Loy, it so happens that my mom just sent us a photo album — it arrived in the mail today — with a bunch of great pictures of me and Nana. She died when I was very young, so I don't really remember her. But I was her only grandchild, and I'm told I was the great joy of the waning years of her life. You can tell that from the pictures, actually. Here's one of me on Nana's lap: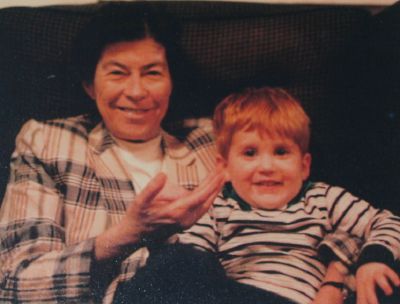 I mentioned before that Nana was Irish. She was, in fact, 100% Irish, and is the source of all my Irish blood (that I know of). She wasn't fresh off the boat, though: her family had been in this country for quite a few generations, since at least the era of the Great Famine, if not before, from what we understand. But anyway, you can credit (or blame) the McNamaras for my red hair — which, as you can see, hasn't really changed color, or style, since I was a toddler — and my total inability to get a tan. :)
Nana was prominent in Connecticut political circles. Indeed, occasionally somebody from Connecticut will recognize my name and figure out that I'm Helen Loy's grandson. I bet this post will get a few Google hits from folks who remember her. Among her many endeavors, she won the Republican nomination for Secretary of the State in 1962 (losing the general election to incumbent Ella Grasso, who would go on to become the first female governor in the U.S. who was not the wife or widow of a former governor).
Through the magic of Google News Archives, you can read excerpts of some Hartford Courant articles from the 1950s and 1960s that mention her — just search for "Helen McNamara Loy." (You can find a few others if you search for just "Helen Loy," without the "McNamara." She normally went by just "Helen Loy," but she included the "McNamara" on the ballot because she wanted the Irish vote!! Heh. The European ethnic communities in Hartford used to be very important voting blocs.)
Even cooler, from 1945, Papa and Nana's wedding announcement! Man, Google rocks.
Anyway, here's a photo of me with both my parents and all four of my grandparents — from left, Papa and Nana Loy and Grandma and Grandpa Loomer: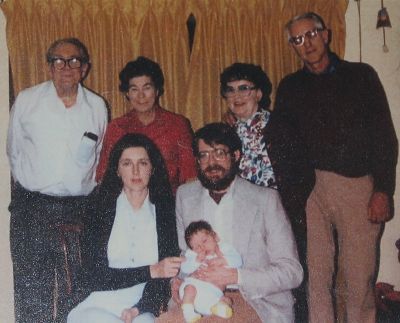 Hard to believe we'll soon be a full generation removed from that photo! In less than seven months, we'll be able to take another picture like that, with me and Becky in the foreground holding our baby, and Papa Loy, Nana Loomer, Dziadzia Zak and Babçia Zak lined up behind us. What a life!
And to think, this started out as a post about cats. :)