Here are my photos of the iPhone's debut at the Knoxville Apple Store in West Town Mall.
My thoughts on the wee gadget? Overall, I agree with Dane: "It's really rather addictively fun to play with. The touch screen thing is fantastic, beyond any other touch sensitive device I've ever used. Flicking around stuff is fun, and really fast and feels very natural."
That opinion seemed to be shared by most everyone at the store; the atmosphere was really electric at the table where people were playing with the iPhones. One person after another expressed a mixture of delight, glee, stunned amazement, etc. at how awesome the little gizmo is. I must have heard some variation on the sentiment, "I really wish I could afford one of these," a half-dozen times. (Clearly, I wasn't the only person who showed up just to play with the iPhones even though I had no intention of buying one.)
Alas, the biggest sticking point for me all along — well, aside from the price, the fact that I'm under contract with Sprint (though I guess it's possible to sell your contact), and the inability to use it as a modem — remains a sticking point: as good as the touch-sensitive keyboard is, and as quickly as you get better at using it after even a few minutes, I still don't think it would ever become possible to type as fast as I can on a regular cell-phone keypad in T9w mode. Moreover, without tactile feedback, it almost certainly wouldn't ever become possible to type without looking, which I do all the time on my current phone. If you're accustomed to sending short text messages and writing brief e-mails from your phone while not doing anything else that you need to look at, this is not a big problem. If you're accustomed to composing and publishing a dozen 256-character blog posts on your phone during the course of a football game you're attending, it's a somewhat more serious concern. :)
That said, the phone is so cool that it might very well, at some point, be worth the small sacrifice of dealing with the limitations imposed by the non-tactile virtual keyboard.
However, I don't think I'll ever get an iPhone unless and until it can be used as a modem. The slowness of typing with the virtual keyboard — this short post took a good 10 minutes to type (though I'm sure I'd get somewhat faster with time) — only reinforces the importance of being able to still use my laptop for blogging, e-mail, etc., while I'm on the go and it's convenient to do so. No way does the iPhone's own web access, while excellent for a phone, totally replace that. In other words, at least for a power user, the iPhone does not "remove the need to carry around your whole computer" in all circumstances. In some circumstances, yes, but not all. Phone-as-modem must be added at some point, or the iPhone will not be a viable option for me. And I'm not alone. A very quick search found tons of bloggers complaining about the same issue. See, for example, this post: "Because the iPhone currently can't be used as a USB modem, it is useless for me. Sure, the video and audio features are cool. Sure, the user interface makes me drool with envy. But all that can't hold a candle to letting me work when I'm out in the boonies. Staying connected means more than just accessing the Internet from my phone. I need a phone that can get my laptop online as well." This is not a trivial issue, and no rationalization regarding the "target audience" can mask the fact that a non-negligible segment of potential users will be unable to seriously consider buying an iPhone until this feature is added. Its absence is, simply put, a total deal-breaker for many people. Are you listening, Apple?
I had a few other pet peeves as I played with the phone, which I'll talk about after the jump. (Don't get me wrong — I really like the thing, and most of these gripes are admittedly nitpicky. But you already know the good stuff, as it's been widely publicized, so I'm trying to add something new to the discussion by mentioning these pet peeves.)
First, though, here's a rather lengthy video of me playing with an iPhone. To be honest, I'm not sure if it will be of much interest, but for those who want to get a feel for what it's like… well, I'd suggest you just go to an Apple Store and see for yourself :), but if you don't want to do that, you can watch my video. Around 9 minutes and 15 seconds in, you can see me log into the WordPress interface (I excluded the part where I enter my password, obviously) and type up a post, so any potential WP-using iPhone bloggers can get a sense of what it would be like to blog via iPhone. Enjoy!
NOTE: My typing speed in this video is a bit slower than my typing speed when using the iPhone normally. I was slowed down by the unnatural angle at which I had to stand and hold the thing in order to keep it on camera.
Speaking of video clips, in the post below, you can view my footage of the Apple Store opening the doors at 6:00 PM.
Anyway, like I said, after the jump, my pet peeves. :)
I already mentioned the most glaring problem I noticed: the lack of basic punctuation marks (i.e., period, comma and apostrophe) on the main virtual keyboard for text-messaging and filling out Web forms (e.g., blogging in WordPress). That's a real pain in the butt, and something Apple should fix in a software update ASAP. I don't mind switching over to the (the one with numbers and symbols) to type a hyphen or semicolon, or even a question or exclamation mark, but basic marks like periods should be easily accessible at all times.

Where's the period key?

Another minor gripe: when typing a password that becomes hidden text once entered, the iPhone doesn't — as my Sprint phone does — briefly display each character before it becomes hidden. This makes it impossible to get visual confirmation that you've correctly typed everything, including capital and lower-case letters. The first time I tried to log into my blog's WP interface, I made a typo because of this.
I was going to complain about the annoyance that can follow when the iPhone incorrectly guesses what you're trying to type: for example, in one case it wrongly replaced "texting" with "testing," and I didn't realize it had done so until I after I'd sent the message I was composing. However, this gripe was severely curtailed (in a good way!) when I noticed how smart the iPhone is about correcting such mistakes. If you type something and it makes an incorrect guess, and you immediately delete that guess and type the same word again, it learns from its mistake and doesn't correct you the second time! This happens without any specific directive from the user (e.g., "add to dictionary"). So that's pretty cool.
Oh, but here's something else: Safari for the iPhone doesn't deal with WordPress's category box very well. You can't scroll down in the box (at least, I couldn't figure out a way to do so), so you can only choose one of the categories at the top of your list. A very minor point, admittedly. But, along with the lack of Flash, it points to an inability to handle slightly-more-complex Web interfaces. Not a huge flaw, but it would be nice to see Apple work on this sort of thing as the iPhone evolves.
Also, I imagine that it would be rather difficult for someone with fat fingers to use Safari for the iPhone — though the ability to "zoom in" obviously helps. But still, clicking on the correct link can be tricky when links are close together. I'm pretty dexterous, but even I clicked on the wrong link a couple of times. For example, on my own website, while trying to hit the "Comments" link at the top of the page, I went first to the "Webcam" page by accident, and then to the "Archives & Links" page, before finally reaching my intended destination. The problem is that, unlike with the virtual keyboard (where the key you're pressing "rises up" to meet your finger), there is no advance visual feedback to tell you whether you're pressing the right link on an HTML page. You just click, and if your finger is positioned wrong, it takes you to the wrong URL. That can be a wee bit annoying, though probably inevitable, and as I said, the simple solution is to zoom in closer using the ingenious two-finger zoom function.
That's about it, in terms of complaints. Most everything worked pretty damn well, indeed rather awesomely, during my test-driving of the phones. It's a very, very fun little toy.
P.S. Oh, I forgot another, reasonably-medium-sized gripe. As this photo demonstrates, the iPhone's built-in camera seems to do a rather terrible job of taking pictures of nearby objects. I tried several times to get a good photo, to no avail. Compare that to a photo of basically the same thing, taken with my Sprint phone, which is — by the specs — less sophisticated than the iPhone's.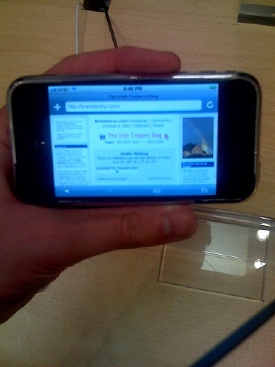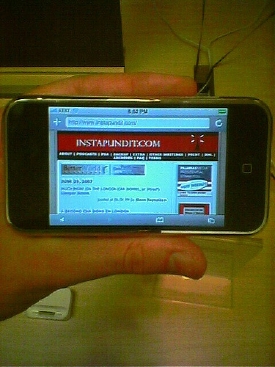 At left, a photo taken by an iPhone; at right, a photo taken by my Sanyo MM-8300.

The iPhone's camera takes better pictures, when the object you're photographing is in focus. But as the above left photo demonstrates, it seemed unable to focus on an object a few feet away. This might have had something to do with the lighting at the Apple Store, or some other aspect of the conditions in which I took the photo, but until I see evidence to the contrary, I consider this a flaw.