How much is it gonna cost you per month to use all those cool features in Apple's upcoming drool-inducing iPhone? Turns out it's not too much: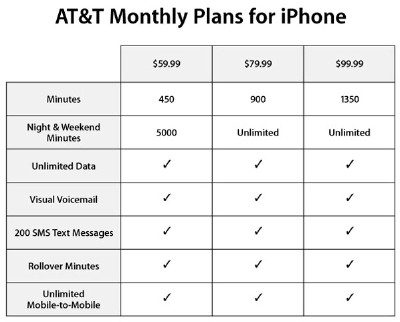 Essentially you are paying an additional $20 over AT&T's regular plans and getting unlimited data, 200 SMS messages, and the visual voicemail feature. AT&T's SmartPhone Connect, which includes unlimited data, doesn't provide you with text messaging and costs the same — tack on an additional $5 for the 200-message package and the iPhone package is a bit cheaper. Assuming you wanted the data plan if you got a smart phone, you'd save $120 by going with the iPhone over the two years of the contract, which oughta make that initial higher cost slightly easier to take.
EDIT–ADDITION BY JAY JOHNSON– I didn't really think this warranted a new topic, and don't want to step on David's toes, but I found something else about the iPhone monthly plan pricing that could be important to possible consumers. If you are already an existing AT&T customer (as I am, and unlike some, I've been very pleased with the service), the rates to add an iPhone to your package is even less than the chart posted above. In fact, it's a LOT less. The three packages, from left to right above are $20, $30, and $40 respectively. There are also discounted rates available for customers with a "family plan" with multiple iPhones. Effectively, if you're an AT&T customer already, it's almost a no-brainer, if you can swing the $499-$599 for the unit. With what the machine can do (iPod, mobile internet/email machine, phone, camera), I think the price is not heinous. Especially, if it's only going to cost me another $30 a month in service.