Becky and I went to Music Row of Maryville this evening for the "Second Annual June Jam," featuring the bluegrass bands Six Mile Express and Higher Ground and the bluegrass gospel band New Road. We didn't know anything about the bands, but we wanted to get ourselves some East Tennessee culture, and I heard the event advertised on WDVX — the local, publicly-supported "American roots music" station (so described by Wikipedia), which we listen to in the car all the time — so we figured, what the heck?
It was a good time, and New Road in particular was very good. But the real news is, we won a free guitar! Well, not quite free; tickets for the concert were $10 apiece, and that also got you a place in the door-prize raffle. One of our ticket numbers got called when they started giving away the "big" prizes (after a bunch of hats, t-shirts, etc.), which allowed us to pick out this baby: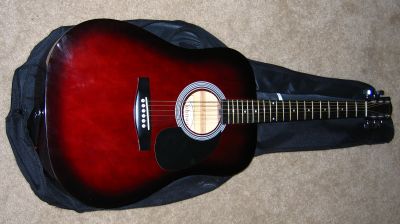 I think it's a JG-610, which means it would be worth $110 new. (Though I think its resale value might be higher if it were an "autistic" guitar … heh.) Not bad for 20 bucks! And we got a case for it, too.
Now, one of us just needs to (re-)learn how to play guitar! :)