"I know it's not Game 7, but it sure feels like do-or-die tonight," writes Bfloblog's Kevin on the open thread for Game 5 of the Sabres-Rangers series, which is tied at 2-2, with Buffalo needing the win tonight at HSBC Arena to hold onto home-ice advantage.
I won't be able to watch the game, thanks to ConCrimPro cramming. But I hope the Sabres will recognize the exigent circumstances and take full advantage of all goal-scoring opportunities that are in plain view, as well as those that require some coersion. Nobody deserves a good stop-and-frisk(-and-punch) more than Sean Avery. Meanwhile, hopefully Ryan Miller will be practicing the exclusionary rule on the other end of the ice, making sure all Rangers shots on goal are inadmissible. (And hopefully someone will remind me I have the right to remain silent, and any further bad jokes I make can and will be used against me in the court of public opinion.)
Anyway… LET'S GO, BUFF-A-LO! Box score here.
UPDATE: Okay, so I lied. :) I'm watching the game after all (while studying…sorta), and what a game it's been. After 56 minutes and 43 seconds of scoreless hockey, the Rangers scored what looked like it would be the winning goal with 3:17 to go. "Good night, folks. Good season," wrote Seth at Bfloblog as the clock ticked down toward zero. Then, amazingly, with 7.7 seconds left, perennial postseason hero Chris Drury scored to tie the game and send it to overtime. Incredible!
Here's Rick Jeanneret's call:
UPDATE 2: Sabres win!! Maxim Afinogenov, who was a healthy scratch in Game 4 because of shaky play in the first three games, scored the game-winner. WOOOOOHOOOOO!!! Here, again, is Jeanneret's call:
UPDATE 3: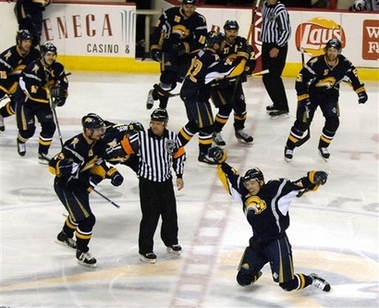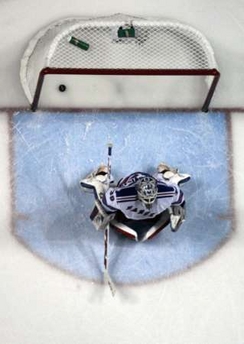 'Nuff said.