Another tragedy has happened in Newington, and this one strikes at the heart of the Boisvert/Donlin clan that produced so many fine athletes and wonderful people during my time at NHS. I am just devastated to learn that Kerri Donlin, a member of the Newington High School Class of 1998, has died at the age of 27.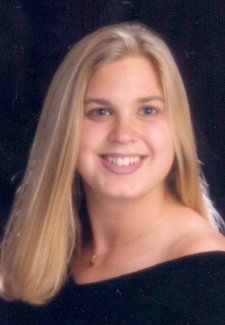 I didn't know Kerri terribly well, but I attended many of her soccer games (she went on to play for the University of New Haven), and her cousin Tara is one of my best friends in Newington. That whole extended family is just great, full of so many genuinely nice people, and it's horrible that they're dealing with a tragedy like this. (Kerri's death may have been caused by a heart condition of some kind, but it's still not entirely clear. Anyway, it was totally unexpected.)
The wake is Sunday from 4 to 8 p.m. at Newington Memorial Funeral Home, and the funeral is Monday at 9 a.m., I guess starting at Newington Memorial and then processing to the Church of the Holy Spirit for a Mass at 10 a.m. The obit says that memorial donations can be made to the American Heart Association, 2550 U.S. Highway 1, North Brunswick, NJ 08902.
Friends can share a memory and leave messages of condolence for the family on the Newington Memorial site. You can read what others have written here.
Rest in peace, Kerri.
P.S. Here is Kerri's MySpace page, which has now become something of a tribute page as well.