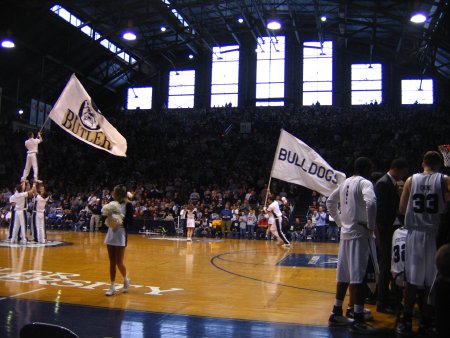 After getting stuck in the snow and rescued by a trio of Butler fans, then having to brave the cold in an unexpectedly long walk from our eventual parking spot, just getting inside Hinkle Fieldhouse was a relief. But it soon became apparent that this was much more than just a warm building, and for that matter, much more than just a basketball arena. There was something special about this place, and there was going to be something special about this game.
Hinkle Fieldhouse veritably oozes history. According to Wikipedia, it was built in 1928, and was the largest basketball arena in the United States until the late 1950s. For decades, it hosted the Indiana state high-school basketball championships, and it's where the climactic game of the movie Hoosiers was filmed — and where the actual game on which the movie was based took place. And of course, it's where the Butler Bulldogs, who have a pretty respectable recent history themselves, play all their home games.
But Hinkle had never before played host to a matchup between two ranked teams, and had rarely if ever seen the sort of national attention that was descending upon it as gametime approached Saturday afternoon. And you could sense it in the air, somehow. It felt like exactly what it was: a national spotlight of unprecedented intensity focusing on a venue that had never really seen anything like this before, but was very much up to the challenge. Luke Winn described the scene well:
The atmosphere was nothing short of idyllic, as fans packed a 80-year-old basketball oasis in the middle of a Midwestern blizzard. They were standing in the balconies, which were adorned with advertising for establishments as Ray's Trash Service and Hillyard: 1st in gym floor finishes. The sun poured in through the massive fieldhouse windows on the East side, illuminating the crowd, which was predominantly blue, but speckled with maroon pockets of boisterous Salukis fans.
Even in defeat, Butler coach Todd Lickliter appreciated the majesty of his surroundings: "Having this game created an atmosphere that was incredible. When you saw this crowd, when you saw the environment, when you felt it, you got to feel Hinkle Fieldhouse the way Hinkle should be. And you got to see it on national TV."
Not just "the way Hinkle should be," I'd add, but the way college basketball should be. Of course, you have to understand my perspective: most of the college basketball games I've seen in person have been at either the Sports Arena or the Joyce Center, both of which have all the disadvantages of an oldish facility without an ounce of Hinkle's charm, and the others have been at soulless corporate venues like the Staples Center (Pac-10 Tournament), America West Arena (NCAA Phoenix Regional) and the Savvis Center (MVC Tournament). Although I grew up a UConn fan, I've never attended a game at Gampel Pavillion, and I certainly haven't been to the sport's legendary venues like Cameron Indoor, Assembly Hall, Allen Fieldhouse, etc. So the idyllic scene and electric atmosphere at Hinkle Fieldhouse were a revelation for me. Yeah, I've seen exciting games before, and yeah, they've involved teams that I cared more about. But this… this was college basketball.
The other thing that was a revelation was just how good our seats really were. I mean, I knew they were in the front row, right behind one of team's benches — really, it was the availability of those seats on Ticketmaster, for just $25 each, that convinced me to buy tickets back in November to this random game between Butler and a then-unnamed opponent — but still, having never sat anywhere near that close before (well, we sat in the second row at a sparsely attended USC women's basketball game once, but that's totally not the same thing), you kind of have to see it to believe it. It was especially fun to see Becky's reaction when she realized how close we were sitting. She was really excited.
This is a camera-nerd's way of expressing the thought, but: you know you're close to the action when you can take a flash picture of A.J. Graves standing near his team's bench, and your flash actually works really well, instead of just ineffectually wasting battery power, like flashes at sporting events usually do.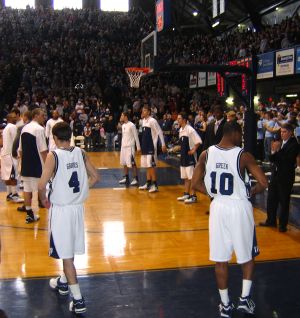 Oh yeah, did I mention that A.J. Graves, one of the best mid-major players in the country — hell, you can drop the "mid-major" label and that statement is still true; he's a Wooden Award finalist, after all — was standing a few feet away from us? Pretty cool. Yeah, we had good seats. :)

Speaking of our seats… I mentioned previously that ESPN.com correspondent Kyle Whelliston, whom I know through our respective blogs, had made little "reserved for" signs and placed them on our seats before we got there. (I had told him where we were sitting, so that we could meet up.) Here's a closer look at those signs:
The image on Becky's sign of a "thought" going into a trash can is, of course, a reference to her blog, the Valkyrie of Discarded Thought. Heh. Anyway, the signs were a hoot, and meeting Kyle — which we did a few minutes after arriving — was a thrill. He's a great guy, an awesome writer, and the absolute authority on mid-major basketball. If you're a college basketball fan and you haven't poked around his website, MidMajority.com, you gotta check it out; in addition to the blog, the archived 100 Games Project, and various other features, he's got probably the best statistical database around. (All the teams and games are in there, not just mid-majors.) And if I didn't like him for all those reasons, he sealed the deal two years ago when he paid me one of the nicest compliments I've ever received as a blogger:
I've been an on-and-off blogger for four years now, and your site is everything that's good about the format: clear writing, avalanche-like updates, guest posters, a boisterous comment community…and an absence of snarkiness and bitterness. Thousands of bloggers have failed to make themselves interesting enough to cause virtual strangers give a hoot about their lives, but you pull it off effortlessly. You're a class act.
Flattery will get you everywhere, and in Kyle's case, it got him a permanent place in my blogroll. :) Anyway, back to Saturday. He came over and said hello shortly before the game (and predicted a 5-point Butler win, which I will now proceed to publicly embarrass him for predicting… muahaha). Naturally, since nothing happens in my life unless there's a picture of it, we took a picture: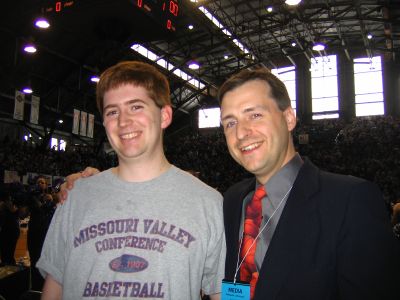 After taking the picture, Becky said something to Kyle along the lines of, "Now you'll be immortalized on Brendan's blog." I responded to the effect that clearly, the ESPN.com archive hadn't immortalized him, but this would do the trick: "Just watch, once you're on BrendanLoy.com, your career is really going to skyrocket." ;)
Kyle is officially the third "blog-only" friend I've met in real life — the second at a basketball game. The first was "isuquinndog," a.k.a. Mike Quinn, whom I met last March at the Missouri Valley Conference tournament in St. Louis (where, coincidentally, I bought that shirt). The second was "DrawingDead," a.k.a. Jay Johnson, whom I met in December in Knoxville — and will be seeing a lot more of in the near future.
Anyway… enough about Kyle Whelliston, and on to the game.
Actually, I think I'll end this post, and talk about the game in a new post, "Part III," a little later. I think that'll be the final part of this series of posts. Stay tuned.