Can the Notre Dame men's basketball team FINALLY get a road win tonight? So far, so good: it's 61-42 Irish over Syracuse at halftime.
UPDATE: Irish win! Yes! 103-91! Finally, a road win! Praise the basketball gods! Hallelujah!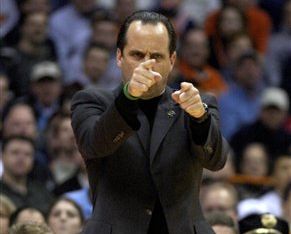 Mike Brey gently reminds his players, "DON'T F***ING DO POT!!"

Up next for the Irish: a game at South Florida on Saturday, then at DePaul next Thursday (the 8th). They return home on Thursday the 15th for a date with Providence.
Meanwhile, updated versions of ESPN's Bubble Watch and Bracketology are due out tomorrow, so we'll get a sense of where the professional prognosticators think the Irish stand.