It was requested that I post the final score, so there it is. Here's the article. And here's a photo: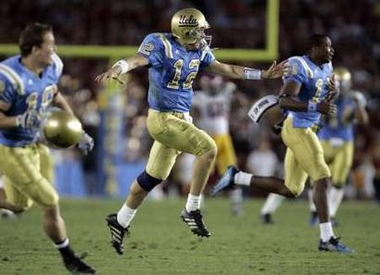 I hate UCLA.
A few random, disjointed thoughts:
• Wow. Great game by the Bruin defense. Amazing job. Hats off to them.
• Along those same lines, I clearly underestimated UCLA when I criticized Notre Dame for not playing well against them. That defense is very good when they play up to their potential. If they were consistently as good as they played tonight, they'd be a damn good team.
• All that said: John David Booty, WTF? 23/39 for 272 yards doesn't look awful, but there were some horrible decisions and throws in there.
• Mike Tran owns me.
• Speaking of which, yes, I will fulfill the terms of the bet, obviously. Stay tuned. Seeing me try to fit into Mike's medium sweatshirt should be entertaining.
• You think Karl Dorrell might keep his job?
• Is it just me, or did some USC player almost catch that Hail Mary pass? And it just me, or did he have a pretty decent chance of running it in, if he had caught it? Man, that would have been the most awesome thing in the history of the world if it had happened.
• It didn't happen, though.
• People who are happy about UCLA's win, in order of happiness: 1. UCLA fans; 2. Michigan fans; 3. Florida fans; 4. CBS executives. I'm guessing the ratings for Arkansas-Florida tripled when the clock hit 0:00 in Pasadena.
• If Florida wins, I think they should go to Glendale ahead of Michigan. The Wolverines already had a chance against Ohio State, and based on their resumes, Michigan isn't clearly more deserving than Florida. (Remember, it isn't who's better, it's who's more deserving.) Between two teams that are approximately equally deserving, I think the fact that Michigan already had a shot at Ohio State should be the tiebreaker.
• That said: GO ARKANSAS!!! I want the Razorbacks and Nebraska to win, so that USC will have beaten three BCS-bound teams this season. Also, I want USC to play LSU in the Rose Bowl, not Michigan. A matchup between the Trojans and the Wolverines would be a rematch of the 2004 Rose Bowl, and not just any rematch, but a pale shadow of that game, when a national title was on the line. On the other hand, a matchup between the Trojans and the Tigers would be fun. Obviously, it wouldn't settle anything, football-wise, regarding the 2003-04 championship debate — but after the way USC and LSU fans have been sniping at each other for the last three years, it would be awesome for the fans to actually have that game.
• Notre Dame just clinched a spot in the Sugar Bowl. The notion of the Rose Bowl choosing an ND-Michigan rematch wasn't totally implausible; the notion of them choosing an ND-USC rematch, I have to think, is.
• Wow. I can't believe we lost to UCLA.
• Come to think of it, this is the first time I've ever seen USC lose to UCLA. I wasn't a USC fan until I went to college there, and my freshman year was the first year in the 7-year winning streak.
• At least Gonzaga won.
• And yet, somehow, that doesn't really make me feel better.
• I said weeks ago — not sure if I said it on the blog, but I know I said it aloud to several people — that, looking ahead to USC's brutal last four games in consecutive weeks against Oregon, Cal, Notre Dame and UCLA, the team I was most worried about was Cal, and the team I was second-most worried about was UCLA. Why? Because while Cal was the only team with the talent to hang with USC if both teams played their best, I was more worried about USC not playing its best against UCLA than I was about USC not playing its best against Notre Dame. It was always going to be tough to win at the Rose Bowl against UCLA after playing such an intense stretch of games. A letdown was always a serious worry. And it happened. Of course, it wouldn't have mattered if UCLA's defense hadn't played its best game of the season.
• Did I mention I hate UCLA?
• Dammit.