One year ago tonight, I was blogging this and getting ready for the biggest, happiest day of my life: Becky's and my wedding day. That's right — today, Saturday, December 30, is Becky's and my first anniversary.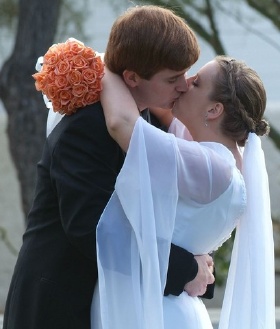 In honor of the occasion, here's something I've been meaning to link to for a while: our wedding video, in streaming-video form. You'll have to turn off any pop-up blockers, or set up weddingdvd.com as an "allowed site." Also, please note, the "Play Movie" feature doesn't actually work; you have to play the movie scene-by-scene.
If you can't get it to work at all — personally, I have trouble in both Safari and Firefox on my Mac — you can also try loading the video directly at the URL http://www.weddingdvd.com/movies/meta/46976_1_gold.asx. That file contains the whole video, all 90-plus minutes of it.
And of course, our full, extremely extensive gallery of wedding photos can be found here, as always.
Anyway, Happy Anniversary to us! :)
P.S. I'm working on extracting some "highlights" and uploading them to YouTube, for people who don't want to wade through an hour-and-a-half worth of video (which I assume is, like, pretty much everyone). So, stay tuned for that. I'll probably have them online sometime around midday.