You've seen indignity #1 that I suffered as a consequence of losing my bet with Mike on Saturday's game. And now, indignity #2.
To my fellow Trojans, I'm sorry. That said, believe me, this is going to hurt me more than it's going to hurt you.
. . . . .
Why UCLA is superior to USC
by Brendan and Becky Loy
How is the University of California at Los Angeles superior to the University of Southern California? Let me count the ways.
UCLA is better at sports. For example, the Bruins have won more team NCAA championships (99) than any other school. Also, as winners of 9 out of the last 16 football games against the Trojans, it is clearly more of a football school than USC. With regard to basketball, no explanation is needed.
UCLA is also better academically than USC — as a result of which, UCLA has more kids that got into USC than USC.
UCLA has better fans than USC. For example, Snoop Dogg is a USC fan.
O.J. Simpson did not go to UCLA.
UCLA has a nicer campus than USC, and is in a better location than USC (Westwood v. South Central LA). Again, no explanation is needed.
Speaking of Westwood, Diddy Riese Cookies makes the world's best cookies. USC does not have a Diddy Riese Cookies in its neighborhood.
UCLA has a better daily newspaper than USC. One reason for this is that the editor-in-chief of the UCLA daily newspaper was not recently fired by a university administrator who shares a name with a freaky pop star who likes little boys.
Unlike USC players, UCLA football players do not perform sexual acts on their opponents after getting knocked down.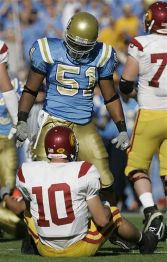 Unlike USC cheerleaders, UCLA cheerleaders do not cheer when their opponent scores.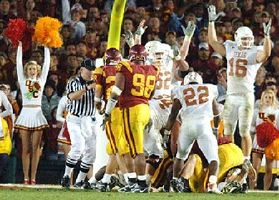 UCLA's band knows more than one song.
UCLA students do not wear black Velcro shoes and black socks.
Spike Lee's movie about Hurricane Katrina did not feature a goofy-looking red-headed dork wearing a garish UCLA sweatshirt.
UCLA students are better at making NCAA brackets than USC students.
UCLA has Mike Tran. USC has Brendan Loy. 'Nuff said.
This list is not exhaustive, as it would be impossible to list all of the ways in which UCLA is superior to USC.
. . . . .
There you go. Ladies and gentlemen, I don't welch on bets.
"Thanks" to Mike Tran for his "help" in compiling this list.
I hate myself.