I'm safe and sound at Kristy & V's apartment in Denver. I slept through the entire flight from Chicago (that's what happens when you travel the day after staying up all night watching election returns); I literally fell asleep shortly after takeoff and woke up when we landed, thinking we'd hit a patch of turbulence, only to realize it was actually the ground that we'd hit. :) Once at the airport, I rented a car for the first time in my life (hooray for being 25!), met up with the girls, stopped at IHOP for a late dinner, and then followed them home. Their apartment is way cute! About the rental car: via Southwest's website, I had requested a mid-size car, and wouldn't have minded getting something smaller, but instead I got a Dodge Durango (apparently Advantage only had SUVs — WTF?), and let me tell you, it is a freakin' bohemoth. When I look in my rearview mirror, I feel like I'm gazing at a rear window that's about a mile away… and when I change lanes or turn, well, it's an adventure, because, um, a Durango has a slightly bigger blind spot than a Camry. :) Yikes. I think I'll be using my side mirrors more in the next couple of days than I have in my entire life combined up until this point.
Anyway, enough of that. Here are some photos from this afternoon's Transit of Mercury, taken by yours truly at the Adler Planetarium in Chicago:

Mercury is the smaller dot, closer to the middle. The large, irregular-shaped dot at right is a sunspot. I took this picture by putting my camera's lens right up against a telescope's viewfinder; it worked surprisingly well.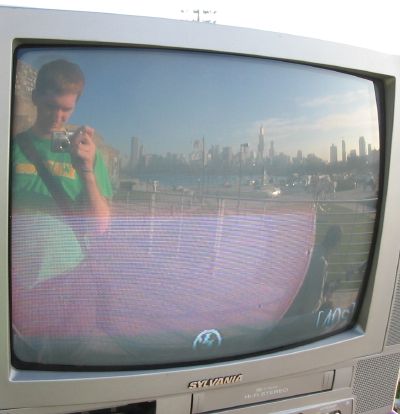 This turned out to be kind of a cool shot: my reflection, the reflection of the Chicago skyline, and a TV image of Mercury.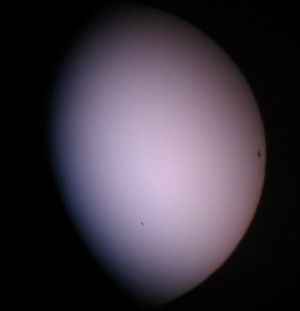 Another view of Mercury and sunspot 923, again taken by looking through a telescope viewfinder with my camera.
P.S. Here's a video of high cirrus clouds blowing by, partially obscuring the view of the Sun as seen on this projection, while an astronomer and a member of the public chat about the sunspot, the transit and the clouds: