I think we have a front-runner for BrendanLoy.com Photo of the Year 2006: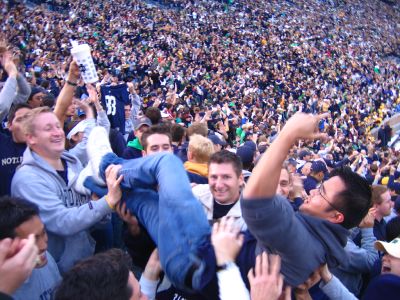 Heh. That would be Mike Tran, the Irish Bruin, who was rooting for UCLA, being forced to do pushups after Notre Dame's go-ahead touchdown. I don't want to speculate about which finger it is that he's sticking up, since it's blurry enough that I have plausible deniability, but uh… yeah.
I don't mean to gloat, though. It sucks to lose a game in such heartbreaking fashion… and there but for the grace of God Matt Leinart and Dwayne Jarrett go I. :)
Anyway, here are my videos of the game's incredible ending. The first one is the go-ahead touchdown; I basically went nuts after the Irish scored, so the video is rather chaotic. If you get motion sickness easily from watching videos, you may want to refrain. :) The second video is Mike doing pushups, and the third one is the game-ending sack and the clock hitting 0:00.
It was great to experience a dramatic, last-minute win at Notre Dame Stadium that I could celebrate with the crowd, instead of against them (as in the USC game last year). And, major kudos to Brady Quinn, Jeff Samardzija and the rest of the team for an awesome final drive.
That said… Notre Dame did not impress me at all today. The Irish ARE NOT a Top 10-caliber team, and Brady Quinn IS NOT a Heisman-caliber quarterback. I love the Irish, and as such, I'd love to buy into the hype like everybody else. But I honestly don't understand how anyone can watch this team play and conclude that they're the #8 team in the country.
Yes, they play well in pressure-packed late-game situations (see, e.g., MSU and now UCLA), and yes, that's important, but it's not all there is. Playing consistently well throughout the course of a 60-minute game is the measure of a good team, as opposed to an okay team that's just barely skating by and earning flukey wins… and throughout the course of a 60-minute game, the Irish look for all the world like a middling Top 25 team that should maybe be ranked around where Arkansas, Rutgers and Boston College are ranked.
Likewise, playing consistently well throughout the course of a 60-minute game is also the measure of a good quarterback, and while Brady Quinn always ends up with decent-to-good numbers — and he's really, really good at two-minute drills — when you watch him play throughout a game, how can you honestly say this guy is Heisman material? Maybe the Brady Quinn of 2005 would have been Heisman-worthy, if he was up against this year's weaker field of contenders instead of last year's all-world trio of Bush, Young and Leinart. But this year, his flaws have been exposed time and time again. He underthrows or overthrows receivers on a regular basis, even when he's not under that much pressure, hitting their feet or throwing over their head; when he throws short-yardage passes (which he does a bit too often for my tastes, even at times when something bolder seems appropriate), he sometimes throws the short passes too hard or too inaccurately to be caught; he's either not mobile enough or doesn't have good enough instincts to deal effectively with blitzes that get through the offensive line; and he doesn't seem to have a killer instinct until he sees that the clock is under 2:00. Brady, why can't you play the first 28 minutes of each half like you play the last 2 minutes? Why?? You have the talent… you have the potential… use it!! But they don't give Heismans out on the basis of talent or potential, they give them on the basis of performance, and Brady Quinn's performance this season is not Heisman-worthy in any way, shape or form. Sorry, but it's true.
Anyway, getting back to the bigger picture: the notion that Notre Dame is the third-best one-loss team in the country (behind Texas and Auburn) is laughable. You're talking about a team that got crushed by Michigan at home; would have lost to Michigan State but for a truly epic Spartan choke job; won by decent margins against Purdue and Stanford, but let those weak teams hang around for far too long; and just barely beat UCLA at Notre Dame Stadium. And we're supposed to believe they have a chance against USC at the Coliseum??
In a way, it would almost be better if the Irish were to lose to one of the service academies (which I think is very possible, BTW — Navy has looked quite good this year, Air Force almost won at Tennessee, and Army almost beat Texas A&M and looks like a classic "trap game" for the Irish, the week before USC), so that they would end up 9-3 after the loss to USC, and thus play in the Gator Bowl instead of a BCS bowl… because I'm afraid if they make the BCS, they're not going to be able to end their seven-bowl losing streak. Does anyone honestly think this Notre Dame team is likely to beat an Auburn, or a Florida, or a Cal, at a neutral site in a bowl? I'll be rooting for them all the way, except against the Trojans, but color me very skeptical. Notre Dame has impressed me exactly once this season, against Penn State. I don't understand why this year's team is so much worse than last year's team, but it is.
Oh, well. Today was a very fun win, regardless. GO IRISH, BEAT NAVY!