Lots more Spartan misery, and calls for Smith's head, here and here and here. On the MSU boards, they're beyond demanding that Smith be fired, and are already speculating about who will replace him. (Anyone for Teddy Ruxpin?)
Here, via ESPN, is a clip of the MSU-Illinois flag-planting incident (more on that momentarily) and Smith's self-slap.
[UPDATE, 3:11 AM: Larger, longer video clip after the jump.]
The self-slap (animated GIF here) is an obvious — and obviously classless — reference to the ridiculous slap controversy that developed after Saturday's ND-MSU game, a controversy that was shamelessly stoked by Spartan coach John L. Smith in a transparent attempt to distract attention from his team's incredible choke job against the Irish.
Even if we give Smith the benefit of the doubt (which I'm not inclined to believe he deserves) and assume that this most recent, post-Illinois-game "slap" was intended entirely as a joke, it's still unbelievably inappropriate under the circumstances. Take your pick: either Smith is reacting to this week's devastating loss by clinging bitterly to an irrelevant perceived slight stemming from last week's devastating loss, or else he's reacting to this week's devastating loss by joking about an irrelevant issue leftover from last week's devastating loss! Either way, if I were a Spartan fan, I would incredibly embarrassed to have this guy as my team's coach.
Of course, it isn't just about the slap. The other issue is the whole ridiculous flag-planting thing. As anyone who read my MSU pregame post is well aware, the Spartans planted their flag at Notre Dame Stadium last September after beating the Irish, a controversial action which caused a significant kerfuffle that became a major subplot of this year's pre-game hype. What I haven't previously blogged about is last Saturday's post-game addendum to flag-gate: the absurd decision by Coach Smith to send three Spartans out to the 50 yard line to "defend the S" in the middle of the field after Notre Dame completed its improbable comeback victory at Spartan Stadium.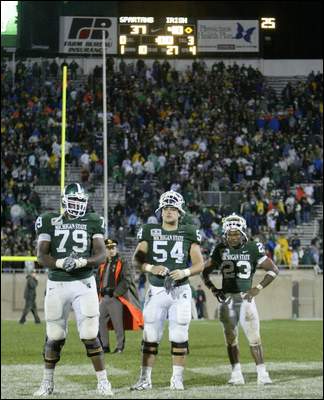 This has been widely commented upon in the Domersphere, with the main theme being how telling it is that Michigan State apparently assumed Notre Dame's players would be as classless as the Spartans had been the year before — a false assumption, as no attempt was made to plant an ND flag, nor would it have been, "defenders" or no "defenders." While I often get annoyed at the holier-than-thou attitude of some Domers vis a vis other football programs, in this particular case it's completely appropriate. Michigan State's behavior in "defending the S" was some combination of hilarious and pathetic.
But something else occurred to me as I considered the "defend the S" fiasco: suppose Notre Dame's players had wanted to plant our flag on the Spartans' field. Granted, we wouldn't do that, because we're classier than that. But what if that weren't the case? What if we were just as trashy as those MSU players, and we decided to plant our flag? Whatever anyone else might say about our hypothetical classless action, Michigan State's players and coaches would have no right to be angry about it, let alone "defend the S" from us. They did the same thing to us! Who the hell do they think they are, demanding that we treat their stadium with a respect that they failed to accord ours! It's totally absurd!
Now, fast forward to today's Illinois game. After the game, the Illini tried to plant their flag on Michigan State's field. Was that classless? Yes. Should it be criticized by analysts and pundits and talking heads? Yes. But should the Spartans, themselves, say a freakin' word about it? NO! Absolutely not! They don't have the moral standing to do so! They've clearly demonstrated that they believe such behavior is acceptable for them, when they win a big road game. Well, guess what guys, don't dish it out if you can't take it!
And yet the Spartans didn't merely complain about the Illini's flag-planting; they actually started a pushing and shoving match at midfield, trying to physically stop the Illinois players from planting their flag.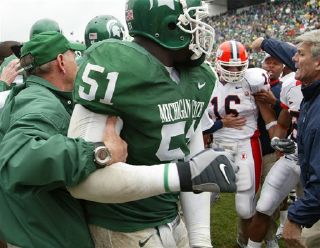 Seriously: what the hell were the Spartans thinking, basically going out there and starting a riot to prevent the defacement of their field? It's not like this was a small, isolated group of players, either. The apparent sentiment — "how dare you plant your flag on our field?" — was evidently widely shared on the team. How hypocritcal! They are demanding a level of respect which they have not earned, nor shown to others.
The Spartans apparently believe that a different set of rules apply to them. Why? Because that's what their coach has taught them. It was the implicit message of their pathetic "defend the S" stunt the week before, and it came to fruition this week with the shameful display at midfield after the Illinois game. (Remember, although today's post-Illinois brawl could be seen, if viewed in isolation, as simply a spontaneous emotional response by college kids — making my point about "respect they have not earned" arguably irrelevant — the "defend the S" business was anything but spontaneous; it was a premeditated decision by the coaching staff. Viewed in the context of that ridiculousness, today's fiasco becomes much harder to defend or dismiss.)
If I were a Spartan fan, I would be demanding the immediate firing of every member of that coaching staff, not just because of the inexcusable choke job against the Irish followed by the inexcusable home loss to lowly Illinois (both of which occured in the context of various other inexcusable collapses in recent years), but also — perhaps even moreso — because of the inexcusably poor example that is being set for those kids by their coaches. By laughing off the original flag-planting rather than taking a stand (as Illinois' Ron Zook did today) against it, by engaging in that "defend the S" absurdity, by stoking a stupid "slap" controversy as a distraction from his team's problems, by breezily laughing off today's incident as "a little pushing and shoving," etc. etc. etc., Smith & co. are condoning behavior that makes their program look like utter trash.
P.S. In case anyone is wondering, Sports Inferno with Mike Valenti — you know, the Teddy Ruxpin guy — airs at 10am Monday on 1270 AM in Detroit, and you can listen live over the Internet here or here. I'm thinking he might have a few things to say about that Illinois game. Just saying. :)
UPDATE: Here's a clip from SportsCenter: