Okay, okay, I couldn't resist the silly, South Park-based headline… sorry. But the topic is deadly serious. I haven't blogged about it much, because I've been busy with work, but the conflict between Israel and Hezbollah/Lebanon is seemingly widening into an all-out war. And if things continue to escalate, it could get really bad: we all know Syria is deeply involved with Hezbollah and Lebanon, and now Iran is threatening that if Israel attacks Syria, Iran will attack Israel. And heaven knows America will defend Israel if that happens. Plus, this all has massive implications for Iraq. And who knows what implications a wider regional war would have for Afghanistan… and its ever-fragile neightbor, Pakistan… and recently-attacked India… etc. etc. And if America gets sufficiently distracted, Kim Jong Il might throw another temper tantrum, which opens up the possibility of whole 'nother domino effect (South Korea, Japan, China, Taiwan…). All that's missing from this volatile mix is an archduke named Ferdinand!
Okay, so maybe I'm getting a bit carried away, but the point is… it could get bad.
Regarding Iran's threats, Andrew writes: "Well, I guess that's one way of formalizing the terrorist relationship between Hezbollah, Syria, and Iran." He then adds:
Sudden thought: What if Israel and the U.S. secretly were deciding to use this latest provocation in Gaza and Lebanon to suck Iran and Syria into attacking Israel, whereby the U.S. would swoop in to protect its ally and take out both the evil Syrian and Iranian regimes. Wishful thinking, maybe… too brilliantly machiavellian. I'm surprised Mad Max or A&A hasn't leveled that conspiracy accusation against the Bush administration yet!
Heh. Although, I'm not sure how "brilliant" that strategy would really be, from a practical standpoint. While it's undeniably true that the anti-war crowd has cried wolf repeatedly with its fear-mongering about a draft, it really does seem like our military would get stretched too thin at some point… a point not too far off. Afghanistan, Iraq, Syria and Iran? I'm no military expert, but eventually we really would need more manpower, wouldn't we? Here's hoping and praying it doesn't get to that point…
Anyway, I don't know what's going to happen next, but I know I'm going to buy a copy of Friday's New York Times, because I think this one might be a keeper… one of those historic, turning-point days in history. Or maybe not, but it certainly has the potential. Here's what the front page looks like: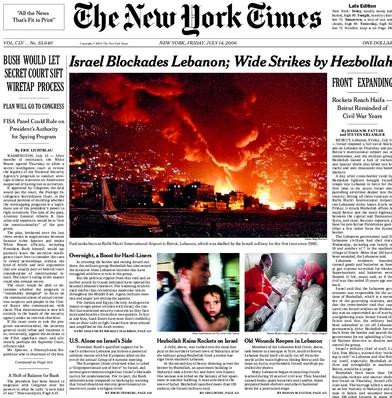 Here's how the Times's lead article summarizes the day's events:
BEIRUT, Lebanon, Friday, July 14 — Israel imposed a full naval blockade on Lebanon on Thursday and put Beirut's international airport out of commission, and the militant group Hezbollah loosed a hail of rockets and mortar shells that killed two Israelis and sent thousands into bomb shelters.

A day after cross-border raids by Hezbollah fighters brought Israeli troops into Lebanon in force for the first time in six years, Israel sent punishing airstrikes deeper into the country, hitting all three runways at Rafik Hariri International Airport, two Lebanese Army bases. Early on Friday, it struck Hezbollah offices in south Beirut and the main highway between the capital and Damascus, Syria, and later, Reuters reported, a base for pro-Syrian Palestinian guerrillas a few miles from the Syrian border.

The Lebanese government said 53 Lebanese civilians had died since Wednesday, including one family of 10 and another of 7 in the southern village of Dweir. More than 103 have been wounded, the Lebanese said.

Lebanese residents hoarded canned goods and batteries as lines at gas stations stretched for blocks. Supermarkets and bakeries were flooded. It felt, many said, as if the civil war that ended 15 years ago was back.

Israel said that the Lebanese government was responsible for the actions of Hezbollah, which is a member of the governing coalition, and that the cross-border raid that captured two Israeli soldiers on Wednesday was an unprovoked act of war by a neighboring state. Senior Israeli officials said that the military had been unleashed to cut off Lebanon, permanently drive Hezbollah forces back from the border and punish the government for not upholding a United Nations directive to disarm and control the group.

Israel's military chief of staff, Lt. Gen. Dan Halutz, warned that "nothing is safe�? in Lebanon and that Beirut itself, especially Hezbollah offices and strongholds in southern Beirut, would be a target.

Hezbollah fired more than 120 Katyusha rockets and mortar shells into Israel on Thursday, Israeli officials said. The barrage killed a woman on her balcony in Nahariya and a man in Safed, and wounded more than 100 other Israelis in some 20 towns and villages, including Haifa, Safed and Carmiel. Israeli officials said it was the first time Haifa had been hit by rocket fire from Lebanon.
And on and on. Bad stuff.
Pajamas Media has ongoing updates. InstaPundit says "we're seeing the result of the 'international community's' inability — and, frankly, unwillingness — to bring Hamas and Hezbollah terrorism under control." He's right. NRO's Michael Leeden says the wider war must be fought, and won. But Blogger of the Year Captain Ed wonders if Lebanon is the right target:
[O]ne has to wonder whether Israel has chosen the correct enemy. Lebanon just recently freed itself (mostly) from Syrian occupation through a people-power revolution. Syria occupied Lebanon for almost 30 years prior to that, and they put Hezbollah into place as their proxy, not Lebanon's. Granted, Israel had a point when they noted that Hezbollah politicians have ministers in the Cabinet, but unlike Hamas in the Palestinian Authority, they do not have political control of the government.

A free and democratic Lebanon could be an ally to Israel, or at least not an enemy. They could eventually have a relationship similar to that of Jordan; not exactly friends, but not at all enemies. Why toss that away in a misdirected rage?

The author of Israeli misery in the North and in Gaza is not Lebanon, but Syria. Lebanon hasn't the resources to expel Hezbollah from its south, in large part because of the resources that Syria and Iran provide to the terrorists. The Lebanese government may not have done enough to disarm the Islamist terrorists, but it's Syria and Iran who armed them in the first place. Hezbollah takes their orders from Damascus and Teheran, not Beirut.

In this case, I believe the Israelis have made a strategic error. They need to use their resources to attack the root of the problem, or at least one of the two roots. Syria and Bashar Assad have much more influence over Hezbollah than Beirut, and taking the war to Damascus will have more possibility of deterring further attacks and raids than inflaming the Lebanese, who just started to get back on their feet in the aftermath of the Syrian withdrawal. They risk creating another enemy instead of eliminating the one that really matters.
Lest you think that I'm only reading conservative pundits, both Kevin Drum and Matthew Yglesias are also concerned about the crisis. At Daily Kos, though, there's no Israel news on the front page. Anyone have other suggestions of intelligent commentaries from the Left that I should be reading?
Anyway… one final point before I go to bed. As I wrote in an e-mail to my parents earlier today:
One thing I wish Bush & co. would stop doing is calling the kidnapping of Israeli soldiers a "terrorist" act.

Taking soldiers prisoner is not a terrorist act. It is a legitimate military tactic… in wartime. It is not an act of terrorism, it's an act of war. Israel obviously has every right to respond militarily, because war has been declared on them, in a very classic sense. You take prisoners from the other guy's Army, you get blown to sh*t by the other guy. Pretty simple stuff.

And no, taking Palestinian terrorists prisoner is not somehow equivalent to taking Israeli soldiers prisoner, because Palestinian terrorists are not soldiers. They do not follow the laws of war. They kill and maim civilians for sport. They are vile criminals, and their capture is not an act of war, it's an act of criminal justice. Capturing actual soldiers is a whole different matter.
I should really give a hat tip to New York Sun editorialist Hillel Halkin, who got me thinking about this topic several days ago with his editorial "An End To Ambiguity."
On further consideration, though, calling the captures a "legitimate military tactic" may be overstating it. I don't know a lot about the laws of war, but I'm thinking that sneaking across the border and kidnapping soldiers without direct provocation isn't exactly kosher. My point, though, is that whatever the kidnappings are, they're not "terrorism," which is the deliberate and calculated murder of innocent civilians for political or military ends. The kidnappings, "legitimate" or not, are clearly an act of war, not terrorism, and Israel has every right to treat them as such. Now, whether the Israelis' thoroughly justified action is also a wise action that is likely to improve the situation — that's an entirely separate question, and one I'm not going to attempt to address right now. I presume y'all in the peanut comment gallery can handle it on your own. :)