I swear this will be my last South Park-related post of the night… :)
I still think this whole thing may be a publicity stunt, with Comedy Central and its "spokesmen" and "statements" all part of the joke. It could be like April Fools Day writ large — they might be working the blogosphere up into a mighty lather, only to start next week's episode with something totally unexpected, like, oh I dunno, Muhammad randomly appearing at the very beginning of the episode and saying "Just kidding!", followed by a regular show unrelated to "Cartoon Wars." I'm not necessarily predicting this, but I definitely don't think it's outside the realm of possibility.
One thing we're forgetting amid all the talk about Mohammed carrying a salmon helmet and Jesus crapping on the American flag is what appeared at the end of the "Al Qaeda Films Production" that constituted the terrorist "retaliation" to the Family Guy episode: the words "THE END," with a question mark: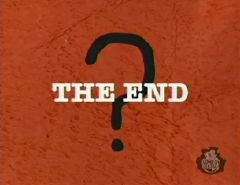 The words appeared first, and then the question mark was "drawn" underneath them. You can see for yourself by downloading the last ten minutes of the episode here.
What does it mean, exactly? I suppose it could be interpreted as asking the same thing Glenn asked: Is this "the end" of South Park? But I think a more likely explanation is, they're implying that this story, this saga, this brilliant bit of comedy isn't really over just yet.
Why do I still suspect, all official statements to the contrary, that the censorship might not be real? Because, no matter how cynical I try to be, it still seems unbelieveable. The notion that a network as relatively edgy as Comedy Central would censor on first viewing something as objectively non-offensive as an image of Muhammed standing in a doorway with a football helmet — even though there have been no protests, no riots, no threats, nobody publicly demanding that they do so — strikes me as very, very fishy. It's one thing to be intimidated into silence by real threats; it's wrong, but it's not hard to believe. But to be silenced by hypothetical intimidation? Is Comedy Central that timid? Would they really censor their biggest show because of a bunch of riots on a different continent regarding an unrelated matter? There was nothing to fear at all. There was no threat to "public safety." Nobody was asking Comedy Central not to air the image… not CAIR, not anybody!
And yes, they pulled the Virgin Mary and Scientology episodes, but that was only a question of whether to re-run them — i.e., the censorship occurred after the episodes' initial airing. And why were they pulled? In the first case, it was because of a massive outcry, and in the second case, it was because Tom Cruise threatened the network's corporate parent with serious economic retaliation. Here, there is no outcry and no blackmail. The fact that Comedy Central caved under those first two circumstances does not necessarily imply that they would be likely to cave here. Indeed, this whole thing could be a very convoluted image rehabilitation effort for the network: by ultimately proclaiming that they were kidding, and allowing Muhammad to air next week, they could look like great defenders of free speech, and wipe the Catholic and Scientology controversies out of everyone's minds.
Bottom line, we're supposed to believe that the network which aired the "Super Best Friends" (and has had no problems re-running it) has a blanket policy against airing any images of Muhammad… even though he's in their opening credits?! I smell a rat!!
So, yeah, I'm still skeptical of this. I will be watching next week, and I won't be at all surprised if Matt and Trey have something else still up their sleeves.