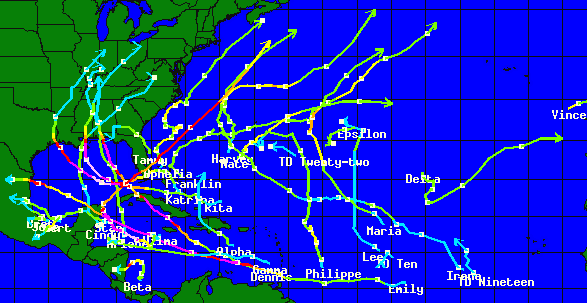 The National Hurricane Center has issued its final Atlantic Tropical Weather Outlook of 2005:

TODAY IS THE OFFICIAL END OF THE 2005 ATLANTIC HURRICANE SEASON… AND THIS IS THE LAST TROPICAL WEATHER OUTLOOK OF THE SEASON. ATLANTIC TROPICAL WEATHER OUTLOOKS WILL RESUME ON JUNE 1 2006.
So, that's it. The historic, tragic, cataclysmic 2005 Atlantic hurricane season — which killed thousands, submerged a city, spawned the most intense tropical cyclone ever recorded in the Atlantic basin, and forced us to bust out the Greek alphabet for the first time ever — is finally, mercifully over. A record 26 tropical storms, 13 hurricanes, and 3 category fives later, the season is officially finished.
Sort of.
The thing is, Tropical Storm Epsilon is still out there. As the Outlook points out:

WHILE THIS IS THE LAST OUTLOOK…ADVISORIES ON TROPICAL STORM EPSILON WILL CONTINUE UNTIL THE STORM DISSIPATES.
And indeed, far from imminently dissipating just because the calendar has turned from November to December, there is a chance that Epsilon will briefly strengthen to a hurricane tomorrow — making it the record-extending 14th hurricane in a season that supposedly "ends" at midnight tonight!
The November 30 cutoff date for the "official" hurricane season is essentially arbitrary. Tropical activity in December is rare, but certainly not unheard of. If Epsilon does strengthen — it's already almost there, with maximum sustained winds of 70 mph — it would be the sixth December hurricane in recorded history, and the fourth storm in recorded history to become a hurricane in December, according to this article and its accompanying links. (The most memorable December hurricane in history is Hurricane Alice, which formed on December 30, 1954 and lasted straight through to the new year! It didn't dissipate until January 6, 1955.)
Just last year, Tropical Storm Otto formed on November 30 and lasted until December 2. Two years ago, tropical storms Odette and Peter formed well into December.
So really, this climatological milestone doesn't mean all that much. We could still get more storms — Zeta and Eta are next on the list — and indeed, the way the 2005 season has been going, it's probably a good bet that we will! If we do, they'll be added to 2005's tally. The season isn't absolutely, positively over until January 1, at which point any additional "out-of-season" storms would be considered 2006 storms, starting with Alberto.
Still, the "end" of the hurricane season does provide a useful opportunity to reflect on the season that was, and look ahead to what might come next, something that lots of people in the media are doing.
The most interesting hurricane-related news I've read today is this story:

Meteorologists used up so many Atlantic storm names during the 2005 hurricane season that they may have to create a new back-up list in case supplies are exhausted in future busy years, U.S. forecasters said.

Meteorologists said the busy 2005 season was part of a natural cycle of heightened Atlantic hurricane activity that could last for decades. …

The busy seasons expected over the next two decades raise the prospect of dipping into an incomplete Greek alphabet [in the event Greek storm "names" need to be retired] the next time all 21 official storm names are used up.

"I think the safest thing is to come up with another list and we'll discuss that," said hurricane center director Max Mayfield.
According to Bryan Woods of The Storm Track, the current proposal is to continue using the six annually rotating lists of names, but to "have…a seventh alphabetical list of names which would be used as a backup, preventing any issues with retiring Greek letters."
"The World Meteorological Organization will meet in Puerto Rico this winter and will discuss the list reorganization and name retirements," Woods adds. Possible name retirements for 2005 include Katrina, Rita, Stan, Wilma, and Alpha.
Anyway… in light of the awful human toll that this season has taken (and that's just the U.S.; the deadliest hurricane of 2005 was Stan, which probably killed upwards of 2,000 people in Central America), I won't end this post with some sort of pithy witticism. Instead, let us all say a prayer for the many victims of the 2005 Atlantic hurricane season, and hope against hope that — contrary to the predictions — there will be far less death and destruction in the years to come.