For various reasons, I was feeling notably stressed and tense after work this afternoon, so instead of going straight home as I normally would, I went to the Grotto in hopes of finding some serenity — and also to light a candle for Sarah, which I've been meaning to do since I learned of her death nearly two weeks ago. I wasn't the only one lighting a candle for someone; there were a lot of lit candles: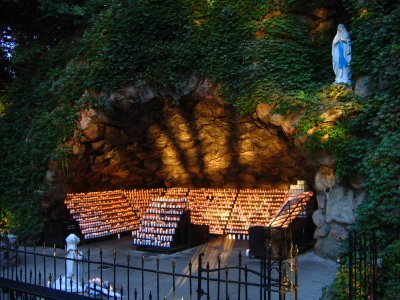 From the Grotto, I slowly meandered across campus back toward the car, still feeling not terribly serene… but then something inspired me to take a brief detour to the LaFortune Student Center and get a mocha from Starbucks. It was an odd choice, as I usually don't drink Starbucks products unless I need a caffeine boost, but I just had a craving for something warm, yummy and coffee-ish. Once inside LaFortune, I saw the Red Sox-Yankees game on the big-screen TV, and decided to sit down on the couch and a watch an inning or two. A friendly fellow Sox fan from Massachusetts was also watching, and we struck up what turned out to be five innings' worth of pleasant conversation. Fun times. By this point I was already feeling better — a hot chocolatey drink, some baseball-watching and a bit of small talk was exactly what I needed, as it turns out.
I decided to leave after the fifth inning and finally head home. But then as I was walking (again) toward the car, something struck me like a bolt out of the blue: "Sh*t! Tommy Makem is on campus tonight!" I grew up listening to Makem (one of my dad's favorites, and ultimately one of mine, too), and had been meaning for weeks to go to his concert (which also featured the Makem Brothers, his sons), but amid all the recent turmoil, I had totally forgotten about it… until around 7:45 PM this evening. D'oh! But maybe it wasn't too late? I ran to the law school computer lab and checked online; the show was at the DeBartolo Performing Arts Center (DPAC) at 8:00. Eek! I figured it was probably too late to get tickets, but hey, no harm in trying, right? So I left the law school at around 7:52 and hustled down to the DPAC, arriving at around 7:57… just in time to be the last person to buy tickets to the show. Woohoo!
The concert was awesome (the old man can still sing "Four Green Fields" like there's no tomorrow!), and things only got better when I checked my cell phone immediately afterward and saw that the Red Sox had won. :)
Whether my prayer for serenity at the Grotto was answered, or whether I was simply the beneficiary of happy coincidences, I do not know. But either way, what had started as a crappy, stress-filled late afternoon turned into an awesome evening, and by the time I got home, I was thoroughly relaxed and happy.
And now, looking ahead to the weekend, I say:
GOOO IRISH! BEEEEAT BOILERS!
FIGHT ON, TROJANS! BEAT THE SUN DEVILS!
…and of course…
LET'S GO, SAWX!!! F**K THE YANKEES!!!
:)