Here's a video clip of my MSNBC appearance (MOV format, 3.2 MB). (Many thanks to Johnny Dollar for capturing the video for me!) Here's a screenshot: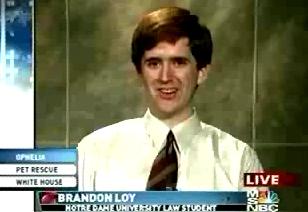 [UPDATE: Here it is as a YouTube clip:
]
You realize, there are probably thousands of people right now trying to get to "brandonloy.com." And to think, I specifically called the producer in advance and double-checked that they had the correct spelling of my name… ARGH!!!
Anyway, for those who did manage to find this site, I promised links to computer models, so here you go. :) As you can see, the forecast tracks for Ophelia are all over the map… hence the NHC's official track being a "low-confidence forecast."
UPDATE: This guy is getting a totally unexpected and unexplained traffic boost right now! :)
UPDATE 2: Those who Google "Brandon Loy" will find me — and indeed, some are.
P.S. And it's the University of Notre Dame, not "Notre Dame University."
P.P.S. Here's a picture of where it all happened, on my end anyway: