Wow… the west side of the storm really does look very ragged all of a sudden.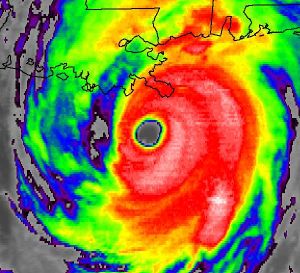 Is that a patch of dry air? Caused by the counter-clockwise flow blowing off the land perhaps? This could help New Orleans at least a bit, if it holds (and if the satellite picture is representative of the wind speeds at the surface)… though I'm suspecting the city will still flood, as the storm surge is coming in from the east, where the storm still looks very strong… so I don't want to get people's hopes up, but this is at least a sliver of hope.
UPDATE: Yup, dry air. Check out the water vapor view: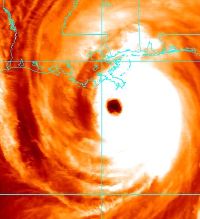 Here's the latest view. How deeply entrained into the circulation that patch of dry air gets could be crucial. Remember, New Orleans figures to be (probably) on the left-hand side of the eye.
UPDATE: As as 2:00 AM, Katrina is down to Category 4, with 155 mph sustained winds. That's the very top end of Category 4 status. But could it be lower? We're waiting on new data from recon plane.
The Weather Channel guys says there is "erosion of the cloud cover on the western side of the storm… but the radar not really reflecting that."
Here's another water vapor view: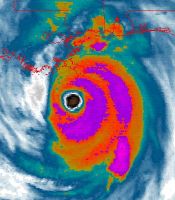 Again, don't get your hopes up. This hurricane is still going to be a very, very big problem.