Archive for June, 2004
Wednesday, June 30th, 2004
I had a nice visit with Bindee this evening.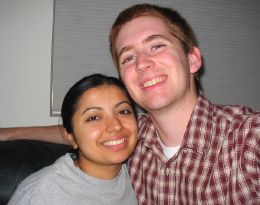 It was fun to catch up… Shrek 2 was great, again… and it was particularly intriguing to overhear Bindee's cell-phone conversation with one of her relatives, as she effortlessly switched back and forth between English and Gujarati, sometimes there and back again in mid-sentence. Sort of like Spanglish, except classier somehow.
Anyway, now I'm at home, eating beef stew and waiting for Becky to return from the dog park. Speaking of which, here's a photo of me the other day with dog-park staple Abby, who is pretty much always sticking her tongue out, and Robbie lying around lazily in the background.