Saw The Day After Tomorrow. Loved it.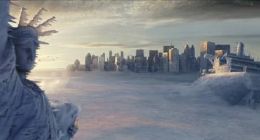 I mean, the science was crap, and the plot had lots of holes; duh. But the special effects were awesome, as advertised — and, for me at least, the "survival melodrama" in the second half of the movie wasn't nearly as bad as the Variety review suggested. There was enough humor and cool visuals to make the whole movie entertaining, from start to finish.
The shot of Americans illegally immigrating into Mexico by crossing the Rio Grande was especially dramatic, and I loved Ian Holm's character (we'll call him Professor Bilbo) and especially his final scene. The nerd romance was also cute, if formulaic.
But the highlights, of course, were the destruction scenes in Los Angeles and New York.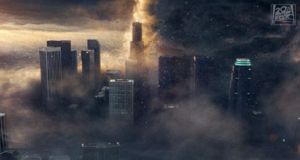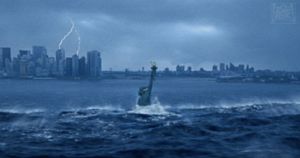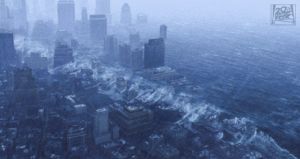 Interestingly, the New York Times cited one preview audience's enthusiasic post-tidal wave cheers as evidence that "a kind of moment, minor but worth noting, had passed in the city's post-9/11 history: New Yorkers were finally ready to watch Roland Emmerich destroy their city again on the big screen."
The helicopter crash was also very cool, as were the shots of the flash-freeze "wave" moving down New York's skyscrapers, and the final wide shot of the ice age-stricken Earth from space.
The only parts of the movie I really didn't like were the few moments of overly didactic politicization, like when the Dick Cheney lookalike solemnly pronounced, "I was wrong." I wanted to say the director, "Okay, okay, we get it." (It was also interesting that they chose to kill off their version of President Bush. A Hollywood fantasy, perhaps?)
But for the most part, this was just a thoroughly fun flick. I give it four frozen shillelaghs.